Tyson Foods to test driverless trucks, transforming meat transportation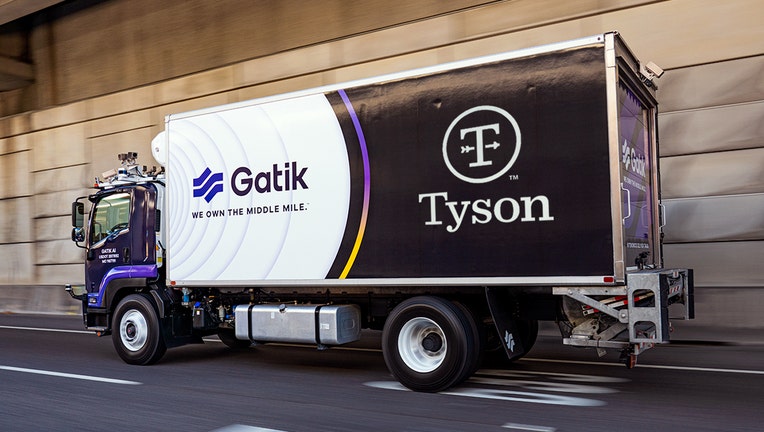 article
SPRINGDALE, Ark. - Tyson Foods, Inc. is the latest company to turn to self-driving vehicles as a way to improve business. 
The meat processing and marketing company said it will partner with Gatik AI, Inc. to deploy autonomous refrigerated box trucks along routes in northwest Arkansas. 
The trucks will operate 18 hours a day and will deliver Tyson®, Jimmy Dean® and BallPark® products to the company's distribution and storage facilities in the Rogers and Springdale, Arkansas areas.
RELATED: Carmakers fail privacy test, give owners little or no control of personal data they collect
The short-haul routes will be predetermined and will carry products from the plant to storage facilities. 
The company said it's also a way to combat the nationwide truck driver shortage. 
The trucks will be equipped with a 26-foot temperature-controlled box. A safety driver will initially be present in the cab to monitor the autonomous truck and take commanded if needed. 
"At Tyson Foods, we are innovating and using automation throughout our business, including in transportation," Patrick Simmons, vice president of transportation for Tyson Foods, said in a news release. "This partnership allows us to strategically place our drivers where they are needed most while still reliably and safely transporting protein from the plant to distribution centers."
RELATED: How much flood water does it take to damage a car? Does it matter if it is salt or fresh?
"We're excited to partner with Tyson Foods to reduce cost and complexity within their regional distribution architecture," Gatik CEO and co-founder, Gautam Narang, added. "This is a significant moment for Gatik as we introduce Class 7 autonomous box trucks into our fleet. Our partnership with Tyson is poised to drive long-term innovation and supply chain resiliency while delivering tangible, near-term value."
In July, advocates for the self-driving vehicle industry warned that years of regulatory inaction is putting American manufacturers at a competitive disadvantage and urged Congress to expand their ability to test and eventually sell autonomous cars and trucks.
While most Republicans, and some Democrats, on the House Energy and Commerce Committee seemed enthusiastic about speeding up the pace of AV research and testing in America, others warned about going too fast without addressing long-standing issues of safety and liability.
One of the main sticking points surrounds liability in case of an accident caused by a malfunctioning AV. Industry advocates argued that accidents involving self-driving vehicles are exaggerated and that the machines are already far more reliable than human beings. Gary Shapiro, head of the Consumer Technology Association, told the committee that self-driving vehicles, "are never distracted, never tired, they don't get drunk and they don't fall asleep."
The Associated Press contributed to this report. This story was reported from Los Angeles.