Two arrested on suspicion of murder in connection to disappearance of firefighter from West Covina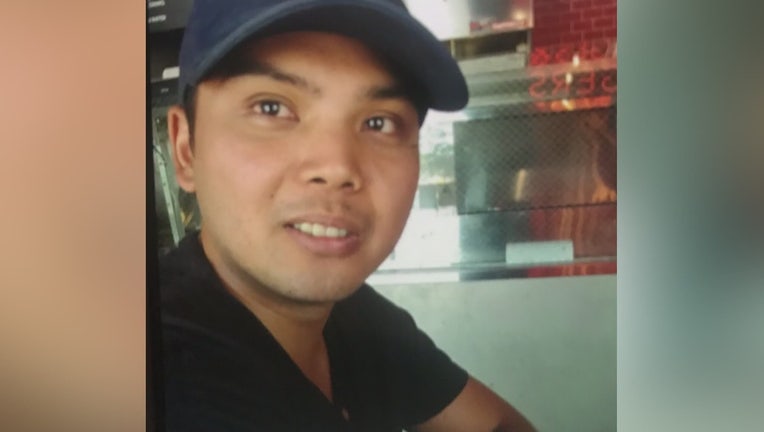 WEST COVINA, Calif. - Two people were booked on suspicion of murder in connection with the disappearance of 28-year-old firefighter John Brian Mananghaya Aguila, West Covina Police announced Wednesday.
Elijah Thomas Rouse, 18, of La Verne and Shaun Cardarelli, 37, of San Gabriel were arrested on Tuesday and are currently being held in lieu of $1 million bail each. They're both scheduled to be arraigned Thursday in the Pomona Superior Court at 8:30 a.m.
The West Covina Police Department said that evidence connected to the search warrant served at a residence Tuesday in La Verne led detectives to believe the missing person's case may be connected to a body that was discovered burned from a fire that occurred near the City of Upland last Friday. That case is being handled by the San Bernardino County Sheriff's Department.
Aguila, who worked as a part-time Bureau of Land Management firefighter, has been missing since Thursday, August 22. His family members contacted authorities Thursday after he failed to show up for work and never returned home, which they said was very uncharacteristic of him.
Investigators learned that his vehicle had been impounded on Friday by the City of San Dimas. Inside the trunk of his car, police found gloves and clothing that had blood on it.
Related: 3 detained during search for missing man after blood, gloves located in trunk of impounded car
Authorities later located video surveillance that showed a male, that was not Aguila, leaving from the car and walking away from it. They were able to identify the man which led to the serving of a search warrant Tuesday at a residence located in the 1400 block of Third Street in La Verne.
Police have not stated what evidence was discovered when they served the search warrant.
On Friday, July 23, sheriff's deputies responded to a report of a fire and located a deceased person in the area of Euclid and Mountain Avenues near Upland. Homicide investigators who responded to the scene said that the body was severely burned.
A positive identification of the body is pending.
Additional details were not immediately known.
Anyone with information about the case was urged to call police at 626-939-8557. Anonymous tips can be left on a message line at 626-939-8688.