Turkey, Syria in desperate need of help, supplies amid deadly earthquakes
In the kitchen, away from the front of the restaurant, Husni Can cries.
Tears roll down her face as she watches the news of the buildings collapse in Turkey. She says she's lost loved ones in falling buildings that have in some cases collapsed on their residents.
"My cousin died, his wife. I have my neighbors. I have a lot of friends under the ground now," she said.
On this day, she's having trouble working as she thinks about her loved ones.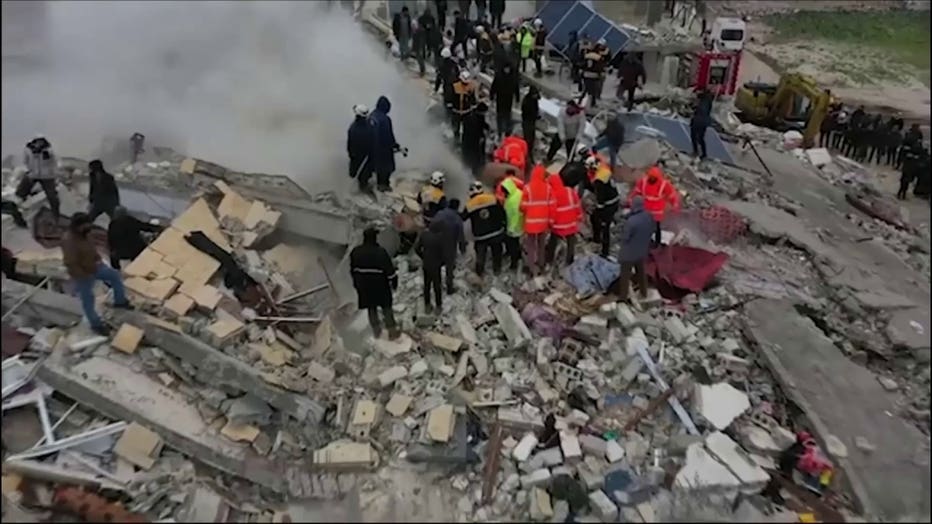 Her cousin – Yusuf San – is the manager of the Studio City Mediterranean Grill. He also found it hard to work Monday after the 7.8 magnitude and its aftershock.
"I worry about people dying. I cry. My emotions. It's kinda like I lost my mind ya know what I mean?" he said.
He's from the area where the earthquake was the worst in Turkey.
In Syria, via Zoom, I talked with Ismael Abdullah. He's a first responder with the white helmets. 
He says he woke up to the middle of the night shaking, grabbed his wife and kids and then started to help others.
He says help is badly needed.
"We need food kits for the people who have to stay out of their houses because their house was destroyed," Abdullah said.
He says they also need medical care. 
Dr. Anas Kawayeh is with the Syrian American Medical Society, also known as SAMS. He says they've already started to help.
"Immediately after the earthquake we started collecting money earmarking it for the earthquake areas," he said.
Everyone we talked with all said what Husni Can said, "Please help them! And, help for all the people in Turkey."
Meanwhile, Doctor Kawayeh says if you'd like to make a donation to help with medical care his organization SAMS is accepting them. Those looking to help can click here for more information. 
In the wake of the deadly earthquakes, the Consulate General of Turkey issued the following statement:
"Volunteers who are willing to send in-kind assistance to people in need in Türkiye affected by the earthquakes are kindly asked to send the following items to Turkish Embassy and Turkish Consulates across the U.S. by mail or through in-person drop-off.
Required in-kind materials: Blankets, Tents, Sleeping bags, Pocket warmers, Winter clothing (jackets, gloves, headgear), Over-the-counter medications for flu, cold and pain killers
Please place your items in clear bags and provide an itemized list of the contents in the bag. The in-kind donations will be sent to Türkiye through Turkish Airlines in a speedy and prioritized manner."