Man stops his truck, gets out to help tackle suspect running from police
Police in Tulsa, Oklahoma released footage of a stranger stepping in to help catch a fleeing suspect.
While police advised citizens to always put their own safety first before engaging, they said this was "a case of 110% support" that was greatly appreciated. 
The situation happened on Thursday, July 13 in Tulsa's downtown area. 
Police said they stopped a couple of people and were questioning them when one suddenly took off running, which can be seen in the officer's body cam footage. 
Police tell the man, who gave them the name David, to have a seat on the curb. And David walked over as if he was going to sit down but then took off running across multiple lanes of traffic. 
Two police officers immediately begin running across the street after him. One begins calling out David's description and their location. 
The suspect was running along the sidewalk and a black truck is seen slowing down alongside and a figure in a bright orange shirt gets outside. 
As the suspect gets closer, the man from the truck is standing in the middle of the sidewalk attempting to block the path. 
The suspect attempts to dodge around the man but was unsuccessful and got tackled. 
"Why you do me like that, homie?" the suspect asks as he got tackled, also letting out a few expletives.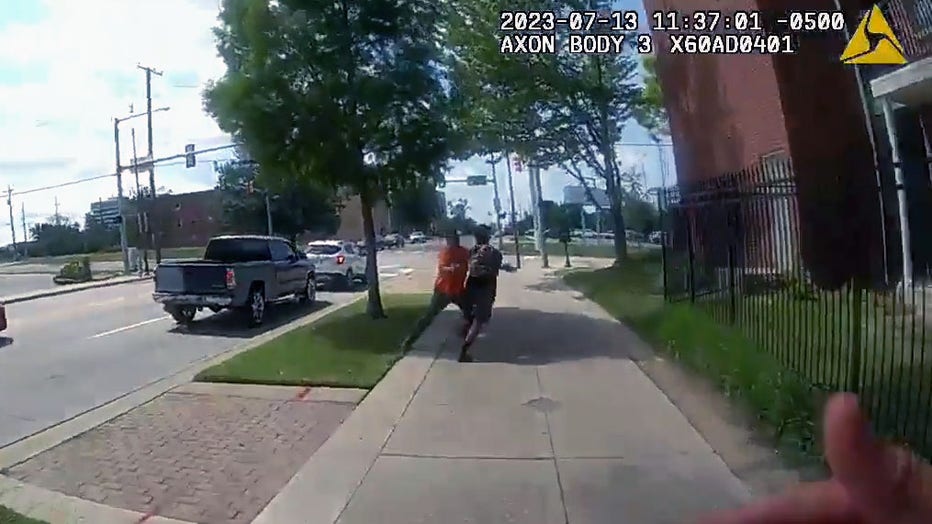 Image: Tulsa Police Department via Storyful
Police then caught up with the suspect and began handcuffing him while the other man immediately left and got back into his truck.
"Get his name," one officer says to the other as he's handcuffing the suspect. 
Tulsa police didn't release the stranger's name, but did post about what happened the next day. 
They added that the suspect's name was not, in fact, David, and that he had given a false name. 
He was learned to be Miguel Hernandez, and was arrested for resisting arrest and possession of drug paraphernalia, police said. 
Police added that Hernandez also had felony warrants for burglary, conspiracy, larceny, and illegal firearm possession. 
RELATED: Good Samaritan follows suspect in woman's brutal attack until cops arrive
Just last month, authorities in Tulsa County called out another citizen who was believed to have followed a man suspected of attacking a woman until police arrived. 
This story was reported from Detroit.