Titan sub latest: Company that retrieved wreckage reveals details about mission
When Edward Cassano and his colleagues arrived in the remote stretch of ocean where the Titan submersible had gone missing, they quickly learned that they would have to do what other deep-sea experts had already tried unsuccessfully: to find the lost sub in some of the most forbidding depths of the North Atlantic.
They set to work deploying their own remotely operated vehicle, the Odysseus, from a ship with a giant "umbilical cord," then lowered the behemoth to the ocean floor, a process that took about an hour and a half, Cassano said Friday at a news conference held at the suburban Buffalo headquarters of his company, Pelagic Research Services.
Just moments after Odysseus arrived on the seafloor, its high-definition cameras sent back images of debris that were undoubtedly what remained of the Titan. Their hopes for a rescue of the submersible's crew of five had faded.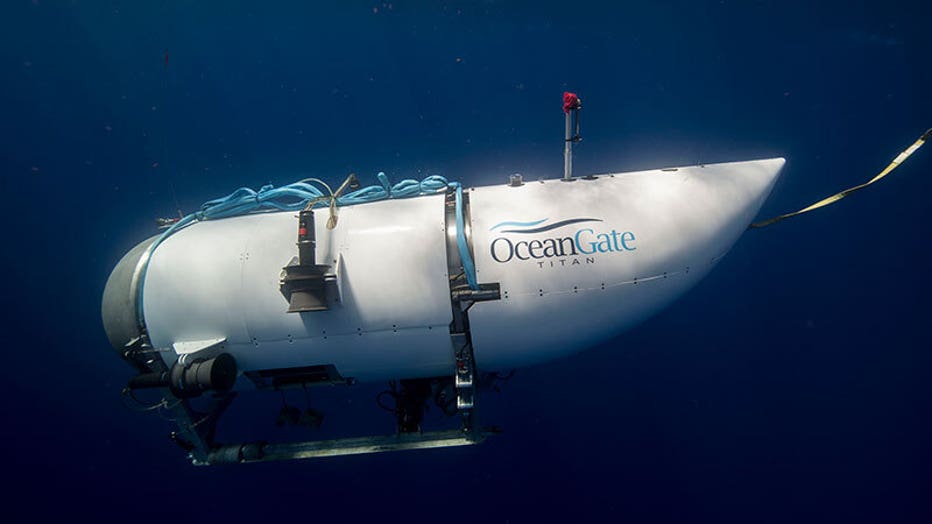 The Titan submersible (Photo by Ocean Gate / Handout/Anadolu Agency via Getty Images)
"I have to apologize," Cassano said, his voice cracking as he described the moment the debris was found. He said he and his crew were still experiencing "a lot of emotion."
The Canadian ship Horizon Arctic brought Odysseus to the search area that had been established for the Titan, and the underwater robot was offloaded into the ocean on June 22. The ship returned to port Wednesday with mangled chunks of the submersible.
RELATED: Wife, mother of Titan passengers shares about waiting to hear from doomed sub
Investigating the debris is a crucial part of a multiagency investigation into why the Titan imploded on its way to view wreckage of the Titanic, killing five. The Coast Guard, which is leading the investigation, said it had retrieved what are likely human remains from the debris.
"It's a very complex operation and fraught with danger," Cassano said of the process to locate, then retrieve the debris. "... Sadly, our rescue turned into a recovery."
He said when his team arrived at the site in the North Atlantic where the Titan had descended, there was already a fleet of 10 ships and aircraft. One of the ships was Deep Energy, which normally lays pipes and cables in deep water.
Cassano said Deep Energy deployed a submersible but it was only able to reach a depth of 2,700 meters (8,858 feet). The Titan's debris was located on the seafloor about 12,500 feet (3,810 meters) underwater.
RELATED: Titan latest: Marine Board Investigation begins over what caused implosion
Pelagic's team conducted 24-hour operations with Odysseus even after finding the wreckage, Cassano said. While tethered to its mother ship, the robot used heavy lifting capabilities to retrieve the heavy debris from the ocean floor, he said.
Asked what he thought of the Titan's voyage, Cassano said that, based on his own experience with a company that focuses on deep-sea research, he believes the crew was motivated by "a passion and a joy for exploration."
Pelagic has locations outside Buffalo and in Massachusetts. Odysseus was built by MPH Engineering of Largo, Florida, and became operational in 2016. Its primary use is deep-sea science, but Pelagic Research "always knew that we'd be called at some point, and so we prepared the system for" rescue and recovery, Cassano said.
READ MORE: What the Titanic sub saga and the Greek migrant shipwreck say about our reactions to tragedy
There are hundreds of remote-operated vehicles, or ROVs, operating around the world, using robotic arms, lights and cameras to work in parts of the deep ocean that would be dangerous or impossible for humans to access.
ROVs were first developed in the 1960s and have been used for military, scientific and industrial uses, such as underwater safety inspections of platforms and pipelines, according to the National Oceanic and Atmospheric Administration. An ROV named Jason Jr. developed by the Woods Hole Oceanographic Institution was used to explore the Titanic in 1986, the year after explorers discovered the iconic ocean liner's wreckage.
Even after years of ROV use in science and industry, removing items from the ocean floor remains painstaking and difficult, said Andy Bowen, a principal engineer at Woods Hole who specializes in remotely operated submersibles.
"Once that's been accomplished, of course, then it has to be brought on board and done so carefully so that there's no damage done or evidence lost," Bowen said.
RELATED: Titan sub tragedy: Billionaire Jay Bloom says he, son were offered seats that Shahzada Dawood, son, 19, took
After the Titan was reported missing on June 18, the Navy analyzed acoustic data and found an "anomaly" consistent with an implosion or explosion in area where the vessel was when communications were lost, according to a senior U.S. Navy official.
Debris from the Titan, which is believed to have imploded that day as it made its descent, was located roughly 1,600 feet (488 meters) from the Titanic on the ocean floor.
Stockton Rush, the Titan's pilot and CEO of OceanGate, the company that owned and operated the submersible, was killed in the implosion along with two members of a prominent Pakistani family, Shahzada Dawood and his son Suleman Dawood; British adventurer Hamish Harding; and Titanic expert Paul-Henri Nargeolet.
The company charged passengers $250,000 each to participate in the voyage. The Coast Guard hopes its investigation will result in measures to improve the safety of submersibles. Other government agencies in the U.S. and Canada are participating in the investigation.