Three suspects arrested for shooting, robbery at upscale Beverly Hills restaurant
BEVERLY HILLS, Calif. - Three suspects have been arrested for their involvement in an armed robbery and shooting that occurred at a chic Beverly Hills restaurant in early March.
All three suspects are part of the Rollin' 30s Crips street gang, according to the US Attorney's Office. 
They have been identified as 20-year-old Malik Lamont Powell, 18-year-old Khai McGhee and 30-year-old Marquise Anthony Gardon.
According to Police Chief Dominick Rivetti, the three suspects entered Il Pastaio around 2 p.m. on March 4 and located a restaurant patron wearing a Richard Mille wristwatch, worth approximately $500,000.The patron was held at gunpoint while the suspects attempted to rob him. During the robbery a struggle ensued between the victim and the suspects and at that time two rounds were discharged from the suspect's gun… hitting a woman in the leg.  
The suspects dropped their gun and fled the restaurant.  
"This was a brazen attack midday in the heart of Beverly Hills, endangering the lives of everyone in the area," Chief Rivetti said Wednesday during a press conference.
He says about 40 people witnessed the crime.  
RELATED: Beverly Hills adding armed, private security after robbery at chic restaurant
Based on surveillance footage and witness statements, a total of five individuals are believed to be involved in the robbery.
According to officials, Powell and McGhee were identified as two of the three robbers, and Gardon was been identified as the getaway driver.
Get your top stories delivered daily! Sign up for FOX 11's Fast 5 newsletter. And, get breaking news alerts in the FOX 11 News app. Download for iOS or Android.
Law enforcement says Powell's car was used as the getaway car and his cell phone shows he was near the restaurant at the time of the robbery. They say his social media accounts allegedly contained images of guns and high-value wristwatches.
According to the affidavit, McGhee's DNA was found on the robbery victim's clothing.
And surveillance camera footage allegedly shows Gardon getting out of the rear passenger seat and into the driver's seat of the getaway car just before the robbery.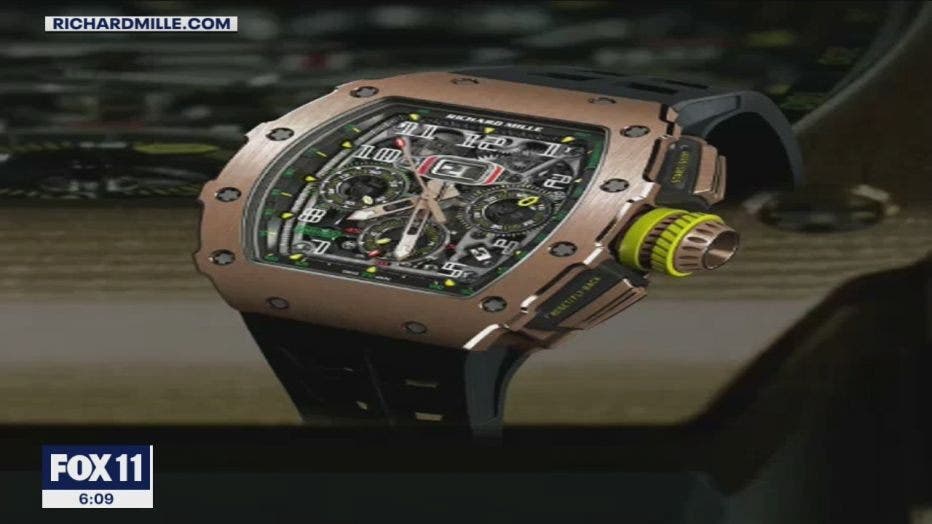 Two other suspects are still outstanding. A $50,000 is also being offered for the return of the watch. 
If convicted, they face a statutory maximum sentence of 20 years in federal prison.