Thousands attend the 88th annual Hollywood Christmas Parade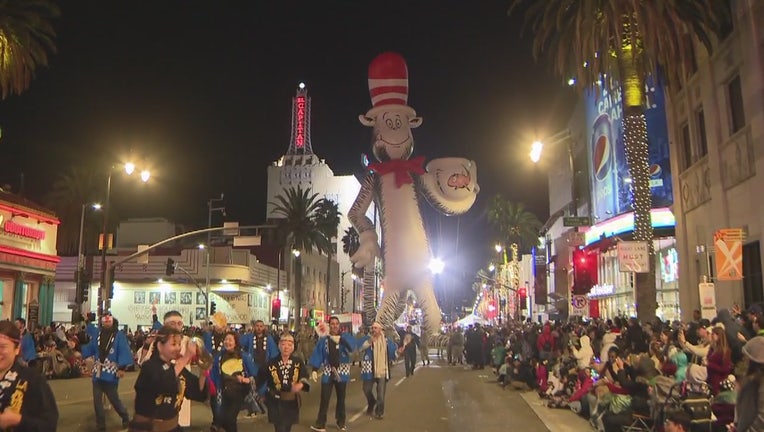 HOLLYWOOD, Calif. - Hollywood Boulevard was home to the 88th annual Hollywood Christmas Parade on Sunday.
Thousands of spectators lined the street to watch Santa Claus, city leaders, action heroes and TV and film stars help spread joy to Los Angeles.
"It helps to usher in the Christmas spirit," said actor Shawn Wayans. "I love that we do this every year," added actress Marisol Nichols.
"I'm really honored to be a part of it and I love seeing all the people who show up for it.""The Hollywood Christmas parade is one of my favorite things in the world to come to," said spectator Ben Budzak. "There are so many people, so many amazing musical acts."
Before the parade started, the All-Star concert included Humanitarian award winner Brett Michaels, Dionne Warwick, David Archuleta, Australians Gary Beers and Toby Rand, American Idol couple Ace Young and DeGarmo and many more.
The Grand Marshal for this year's event was actor and host Mario Lopez and his family. Hosting the parade was Laura McKenzie, Erik Estrada, Dean Cain, Montel Williams and Elizabeth Stanton.The event benefits the Marine Corps' Toys for Tots. "If you could give a toy to a child less-fortunate, buy one and drop it in a barrel," said Santa Claus.
"The marines will make sure that child has a beautiful Christmas morning. Bring joy to someone this holiday season and you'll have joy yourself."Last year, the Marine Corps' Toys for Tots helped seven million of the nation's neediest children.
Sadly, the program reports it still ran out of toys, long before it ran out of children. If you would like to donate you can go to toysfortots.org