Thanksgiving dinner may cost a bit more thanks to extreme weather events across the US
Thanksgiving is a little more than a week away and many Americans across the U.S. are finalizing their grocery lists to stock up on food for their holiday meals. But with so many crops and other food sources impacted by extreme weather events, you may need to dig a bit deeper into your pockets this year.
The Stew Leonard's supermarket chain in the Northeast and New England sells more than 20,000 turkeys, 55,000 pies, and 10,000 lbs of mashed potatoes every year. And Stew Leonard himself joined FOX Weather last week to explain how weather is critical to the price of food.
WHERE WEATHER COULD CAUSE PROBLEMS FOR THANKSGIVING TRAVEL THIS YEAR
"Weather affects food all the time," he said. "I mean, if the seas are rough, we see that lobster prices will go up and some of our fish prices will go up. Weather is critical to the price of food, and we've seen a couple of things happen this year."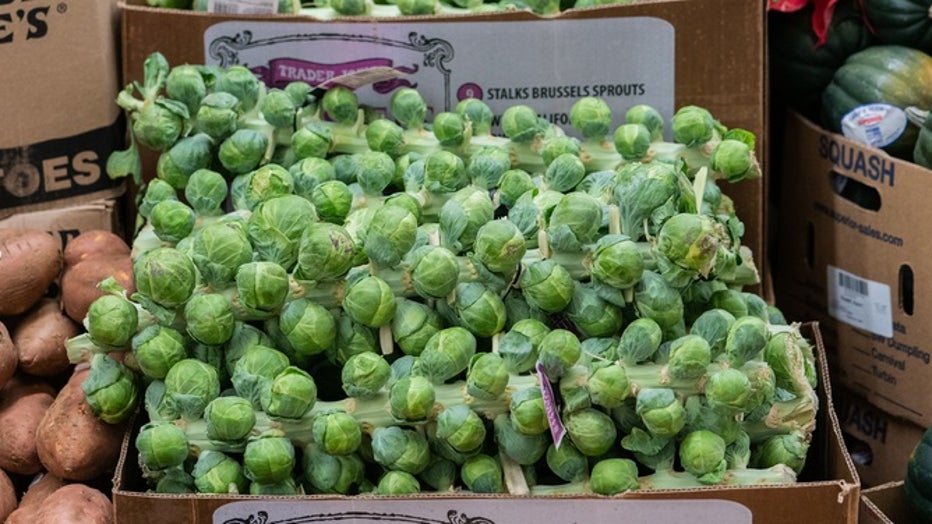 Brussels sprouts for sale at the Trader Joe's Upper East Side Bridgemarket grocery store in New York, U.S., on Thursday, Dec. 2, 2021. The century-old vaulted market under the Queensboro Bridge has reopened on Thursday as a Trader Joe's. Photographer
Leonard said the effect Hurricane Hilary had on California led to the increase of artichoke and Brussels sprout prices. And extreme weather in Georgia has led to an increase in the prices of green beans.
"So, the weather is affecting a little bit of your Thanksgiving meal pricing," he said.
TROPICAL STORM HILARY'S MARCH THROUGH CALIFORNIA COULD LEAD TO GRAPE SHORTAGE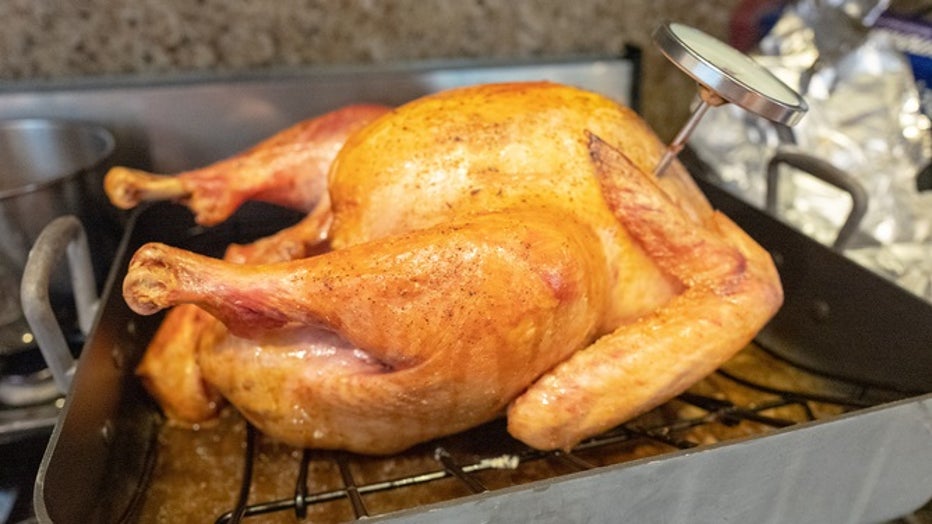 Cooked turkey in roasting pan with meat thermometer during the preparation of a traditional American Thanksgiving holiday meal, San Ramon, California, November 23, 2019. (Photo by Smith Collection/Gado/Getty Images)
One thing that hasn't been affected by severe weather events this year is turkeys.
IDALIA DEVASTATES GEORGIA PECAN ORCHARDS, CROP LOSS EXPECTED HEADING INTO FALL
"We're fine with turkeys," Leonard said. "Turkeys are going to roughly be the same price as they were last year. You know, some people will be selling them a little lower, some a little higher."