Texas sends 13th migrant bus to Los Angeles
LOS ANGELES - Another migrant bus from Texas arrived in Los Angeles on Saturday morning, Sept. 9, according to the LA Welcomes Collective. This is the 13th bus to arrive in the city per Texas Gov. Greg Abbott's border control policy.
"California is ready to show Texas how it integrates migrants and power the prosperity of our state," said the LA Welcomes Collective in a statement. "Despite their traumatic experience migrating to the U.S., asylum seekers want to be self-sufficient, get a work permit and contribute to their new home."
The bus arrived just before 9 a.m. and carried 46 migrants, including 12 families with 15 children among them. The migrants' countries of origin included Colombia, Honduras, Mexico, Nicaragua and Venezuela.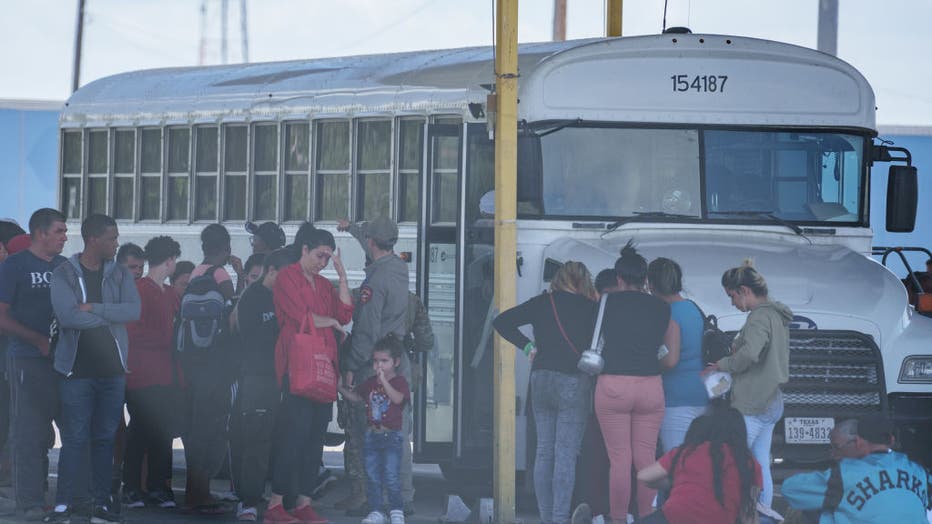 Migrants exit from a Texas Department of Criminal Justice bus at the Eagle Pass Commercial Port of Entry to wait for US Border Patrol transportation vehicles in Eagle Pass, Texas on Thursday, July 28, 2022. Washington, DC, Mayor Muriel Bowser is aski
Many of the migrants allegedly reported receiving little to no food in the past 25 hours, according to the Collective.
PREVIOUS COVERAGE:
In June of this year, the Los Angeles City Council unanimously passed a motion directing the city to draft a "Sanctuary City" ordinance to protect asylum-seekers and provide them with resources.
To date, nearly 500 asylum-seekers have arrived in LA since Texas Gov. Abbott began orchestrating shipments of migrants from Texas to California in June, according to officials. He claimed the state's border region is overwhelmed by immigrants crossing the Mexican border.
"Los Angeles is a major city that migrants seek to go to, particularly now that its city leaders approved its self-declared sanctuary city status," said Abbott said in a statement after the first bus arrived in L.A. "Our border communities are on the front lines of President Biden's border crisis, and Texas will continue providing this much-needed relief until he steps up to do his job and secure the border."
PREVIOUS COVERAGE: LA City Council calls for criminal investigation into migrant transportation
LA Mayor Karen Bass has criticized Abbott in previous statements, saying that LA officials are not given enough notice or details about when these buses will arrive.
"Migrants power our city and state and will continue to do so, no matter how they arrive to our communities," said the LA Welcomes Collective in a statement. "We will continue to work to ensure those who arrive are treated with dignity, kindness and respect."