Suspected tornado flips cars, leaves damage trail in South Florida as storms race across state
PALM BEACH GARDENS, Fla. - It's no rest for the weary in Florida this weekend as what has been a very stormy April finishes up with not one, but two rounds of severe weather.
The first round of storms triggered severe weather warnings and likely produced a tornado in northern Palm Beach County on Saturday.
Residents captured video of flipped cars and downed trees after a Tornado Warning expired for the Palm Beach Gardens area around 5:30 p.m.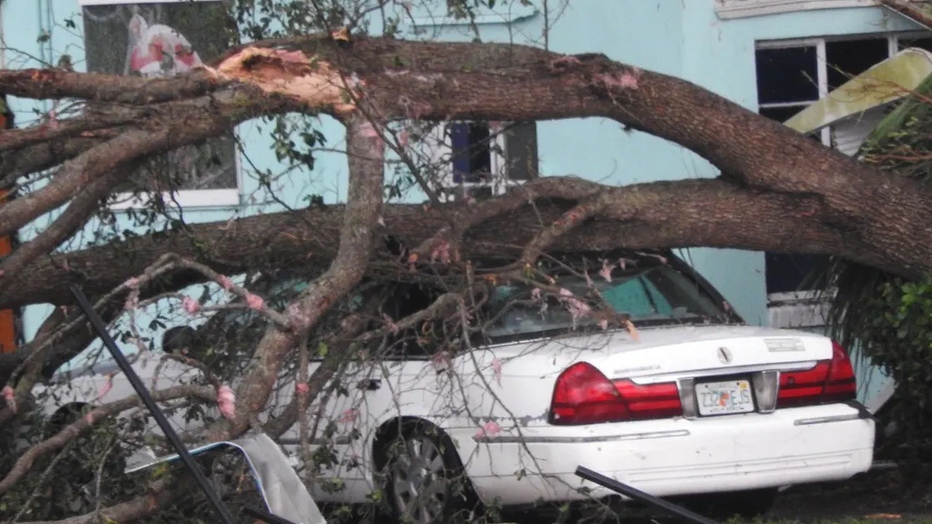 Trees were knocked over and several homes were damaged in northern Palm Beach County. (Sharon Jeannette)
The local police department asked the public to avoid traveling around PGA Boulevard and U.S. 1 due to storm damage.
Several apartment complexes looked to be damaged and at least one building appeared to have substantial roof damage.
At least 4,000 customers lost electricity in the powerful storm, according to PowerOutage.us.
The National Weather Service office in Miami will be tasked with surveying the damage and determining how strong the tornado was and how long it was on the ground.
The survey team will rank the tornado on the Enhanced Fujita Scale which runs from EF-0 to EF-5.
More than 11 million residents were under the original Tornado Watch that covered most of the Peninsula during the afternoon and evening.
Second round of severe weather in Florida Saturday night into Sunday
A second round of severe weather is expected to impact South Florida on Sunday as a trailing cold front finally sweeps through.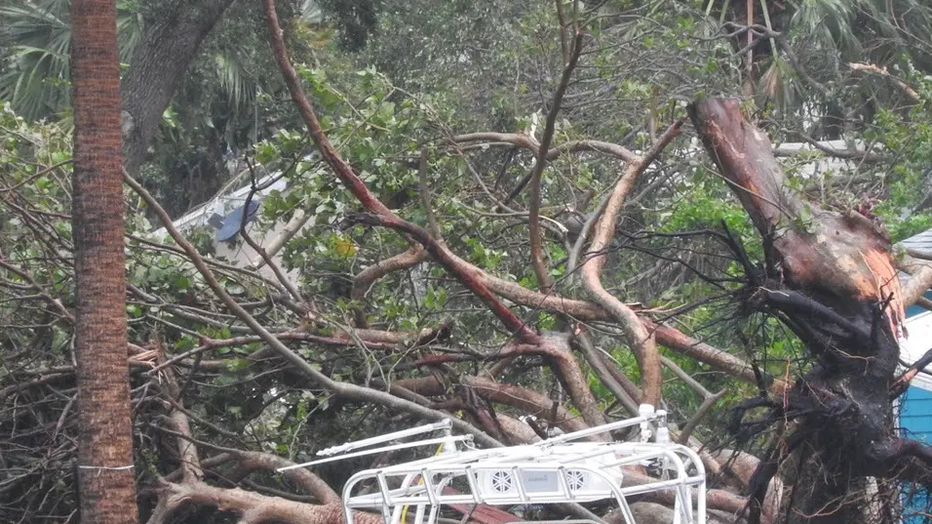 Trees were knocked over and several homes were damaged in northern Palm Beach County. (Sharon Jeannette)
The FOX Forecast Center warns strong thunderstorms could contain large hail, damaging wind gusts and even a few tornadoes.
The threat runs south of Interstate 4 and does include Miami, Fort Lauderdale and West Palm Beach.
NIGHTTIME TORNADOES FAR MORE LIKELY TO TURN DEADLY THAN THOSE DURING THE DAY
"Trying to get some extra sleep in Sunday morning? Probably not, it's going to be rowdy," said FOX Weather Meteorologist Craig Herrera.
The storms will push off into the Atlantic later Sunday, ending the severe threat by late morning or midday with a much calmer Sunday afternoon on tap.
With an Omega block pattern expected to dominate the country over the upcoming week, the weather could turn quieter in the Sunshine State after a week that has been full of severe storms.
Read more of this story from FOX Weather.