Suspect fatally shot by Riverside County deputies following pursuit that ended in Murrieta
MURRIETA, Calif. - A suspect was shot and killed by Riverside County sheriff's deputies in Murrieta Thursday morning following a vehicle pursuit that began in French Valley, authorities said.
The shooting took place in the 23000 block of Jefferson Avenue shortly after 9:30 a.m., according to the Riverside County Sheriff's Department.
Information regarding the identity of the deceased suspect was not immediately available.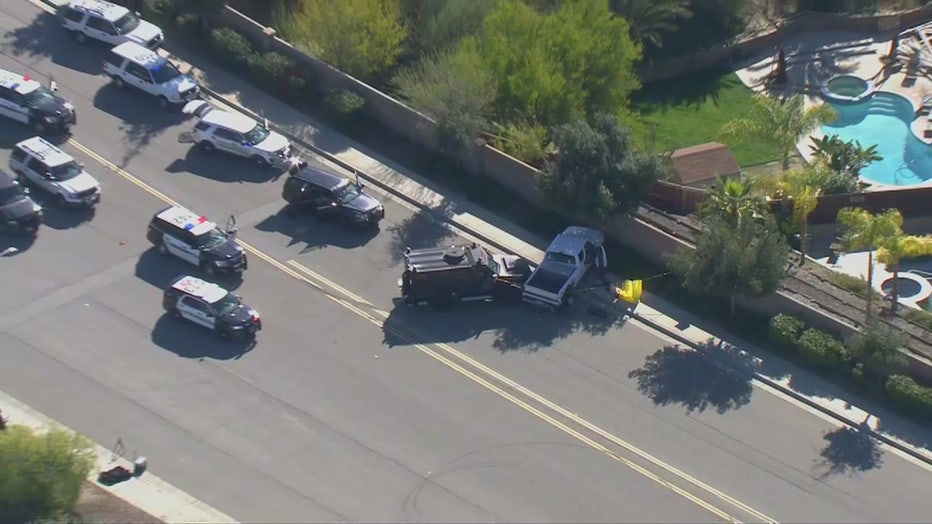 According to the sheriff's department, deputies responded to the 31000 block of Borega Road in French Valley around 8:47 a.m. after receiving a report about a man who brandished a gun and was possibly under the influence of drugs or alcohol.
The suspect fled the scene in a truck and failed to yield to deputies when they attempted to have him pull over his vehicle, the sheriff's department said. 
A pursuit ensued and throughout the chase, the sheriff's department said that deputies made several unsuccessful attempts to get the suspect to surrender.
At one point during the pursuit deputies saw the suspect with the gun, authorities said.
The chase came to an end when the Murrieta Police Department used their bearcat armored rescue vehicle to disable the suspect's truck on Jefferson Ave. 
That's when authorities said that the suspect fired several rounds of bullets at the deputies, striking numerous law enforcement vehicles. This prompted the deputy-involved shooting.
The suspect died at the scene. Authorities said that a gun was recovered at the scene of the fatal shooting.
No deputies were injured in the shooting. 
A portion of Jefferson Avenue, north of Nutmeg Street and Grizzly Ridge Drive at Jefferson Ave. were closed as authorities conducted their investigation. It was unclear when the roads would reopen.