Watch: Southwest jet aborts landing in Denver after entering patch of dense fog
DENVER - Video taken of a Southwest Airlines jet attempting to land at Denver International Airport on Friday shows the pilot had to abort at the last second after entering a swath of dense fog covering the runway. 
A ground stop was issued briefly on Friday morning due to dense fog, delaying nearly 200 flights, reports FlightAware. 
The fog delayed the landing of Southwest Flight 2731 after fog reduced the visibility on the runway.  
WHAT IS SUPER FOG AND WHAT CAUSES IT?
In the video, the plane is approaching a dense patch of fog and the visibility looks good from afar. However, as the plane gets closer to the ground, the fog quickly swallows up the plane, obscuring it from view. The pilot sees the situation and quickly begins to ascend into the air again. 
Watch the plane disappear in the series of three images below taken seconds apart.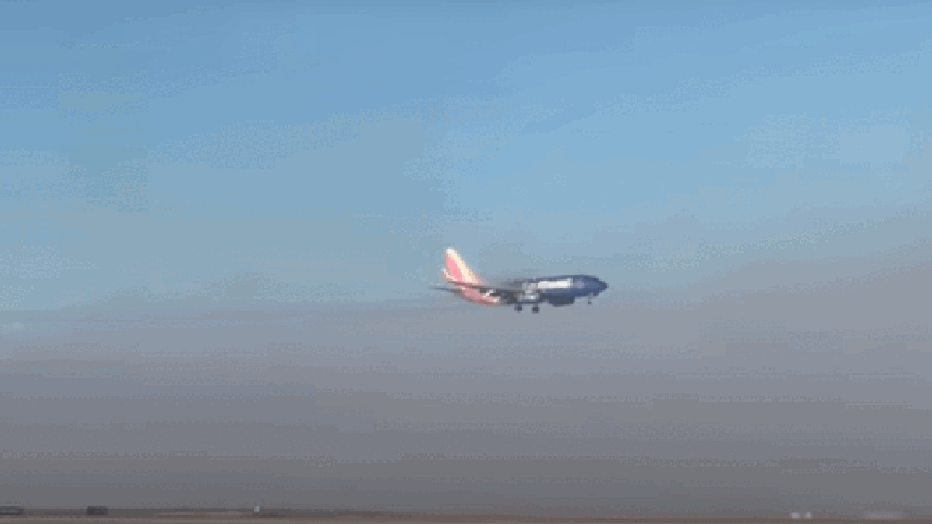 A Southwest Airlines jet flies into dense fog at Denver International Airport. (Image: Paul Thompson via Storyful) (FOX Weather)
According to FlightAware, the flight landed about 40 minutes later in better visibility. 
Around 7 a.m., the National Weather Service in Boulder reported fog had reduced visibility in parts of the Denver Metro areas down to a quarter mile or less. The fog started to dissipate between 8 and 9 a.m. 
WHY DOES WILDFIRE SMOKE CAUSE MORE FLIGHT DELAYS THAN RAIN OR FOG?
Heading into Thanksgiving week, one of the busiest travel weeks of the year, airline travelers to and from Denver may face additional delays because of weather.
Wind gusts between 40 and 50 mph are expected in Colorado on Monday. Strong winds, especially near Denver, have been known to cause ground stops, delays, and turbulence heading in and out of Denver International Airport.