Sons of basketball superstars bring a sold-out crowd to Sierra Canyon High School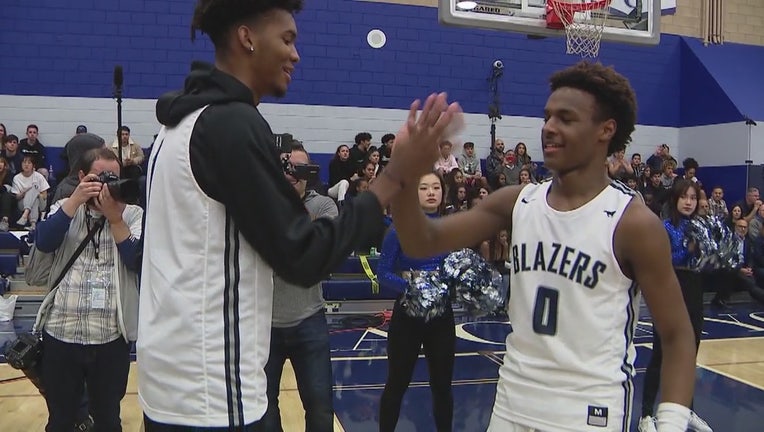 CHATSWORTH, Calif. - Chatworth's Sierra Canyon High School boy's basketball team earned a 52 point blowout win in their first home game of the season in front of a sold-out crowd against Granada Hills Charter Tuesday night.
 The team remains undefeated at 5-0. 
Tickets sold out within 32 seconds as fans looked forward to a loaded roster which includes Bronny James, the son of LeBron James, and Zaire Wade, the son of Dwayne Wade. 
"When you can't find parking, you know it's a big deal," a fan told FOX 11. 
One thousand fans packed the high school gym, including Los Angeles Rams running back Todd Gurley II. 
The Lakers took on the Denver Nuggets in the Mile High City, but LeBron was able to catch his son's home starting debut by streaming the game online. 
The Trailblazers, who are defending state champions, were back in California after they played three games at the Thanksgiving Hoopfest in Duncanville, Texas. 
Freshman guard Bronny James, who stands at 6 feet and 2 inches tall, was impressive and put on a show. He dropped an alley-oop, a play that was captured by SLAM and was posted to his Twitter account. 
Small forward senior Zaire Wade did not play due to an injury.
The basketball powerhouse won 87-35 and were led by BJ Boston, who scored 25 buckets in the matchup. 
Boston will take his talents to Kentucky next fall. 
Sierra Canyon faces Santa Clarita Christian Wednesday night at Cal State Northridge.
MaxPreps currently has the Trailblazers ranked third in the nation and are expected to win their third straight championship title this season.