SAG-AFTRA strike: Hollywood actors join picket lines; no talks scheduled
LOS ANGELES - SAG-AFTRA and WGA union members are scheduled to return to the picket lines Tuesday morning and no talks have been scheduled between the two sides. 
Right now the divide between the studios and unions could not be any bigger as both sides claim the other is not negotiating in good faith. 
Members of SAG-AFTRA protested at eight different sites Monday. 
RELATED: SAG-AFTRA Strike: Hollywood actors join writers on picket lines for 1st time in more than 60 years
"You cannot change the business model as much as it has changed and not expect the contract to change, too," said Fran Drescher, SAG-AFTRA president, in a fiery press conference announcing the strike. "We're not going to keep doing incremental changes on a contract that no longer honors what is happening right now with this business model that was foisted upon us.
"What are we doing?" she added. "Moving around furniture on the Titanic?"
Though many of the demands of SAG-AFTRA and the WGA are longstanding, much of the current dispute gathered force in the helter-skelter days of the pandemic. A digital land rush to streaming ensued, as studios, in many cases, hurried to craft their Netflix competitors. Subscriber growth became the top priority.
The last time screen actors and writers struck simultaneously, in 1960, the guilds established royalty (later residual) payments for replays of films and TV episodes, among other landmark protections. If that strike reckoned with the dawn of television, this one does much the same for the streaming era.
RELATED: Hollywood on strike: SAG-AFTRA actors begin picketing with writers
But streaming, especially when companies carefully guard audience numbers, offers no easy metric like box office or TV ratings to establish residuals — long a foundational part of how writers and actors make a living. SAG-AFTRA is seeking a small percentage of subscriber revenue, with data measured by a third party, Parrot Analytics.
The Alliance of Motion Picture and Television Producers, which negotiates on behalf of the studios, hasn't agreed to that but says the studios have offered actors "historic pay and residual increases," along with pension contributions and other protections.
Meanwhile, actors are sharing images of their paltry residual payments for streaming hits. Kimiko Glenn of Netflix's "Orange Is the New Black" posted a clip of residual payments totaling $27.30.
"You used to be able to work on a broadcast show, one show and you're good for the year because of the residuals," said actor Nachayka Vanterpool on the picket lines. "And then you have streaming coming along and you got 20 cent residual checks. That impacts you."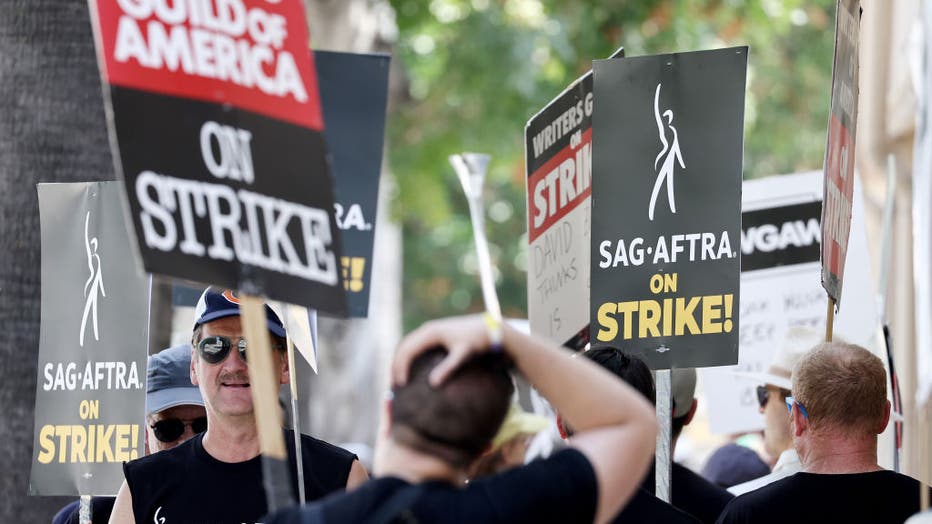 Striking SAG-AFTRA members picket with striking WGA workers outside Warner Bros. Studio on July 17, 2023 in Burbank, California. (Photo by Mario Tama/Getty Images)
There are also differences that favor the writers. In 1960, the strike by SAG (whose president was a then-Democrat Ronald Reagan) was fiercely opposed by some other guilds, including the International Alliance of Theatrical Stage Employees (IATSE), which represents below-the-line crew members. This time, the actors and writers have near-universal support throughout the guilds. IATSE, notably, is set to negotiate its own new contract next year.
The Associated Press contributed to this report.