Retired administrator found stabbed to death at Cal State University Fullerton campus
FULLERTON, Calif. - UPDATE: Co-worker charged with murder in fatal stabbing of retired administrator at Cal State University Fullerton 
A retired Cal State Fullerton administrator was fatally stabbed in a campus parking lot on Monday in what police described as a targeted attack.
Steven Shek Keung Chan, 57, of Hacienda Heights, was found about 8:45 a.m. with multiple stab wounds inside a silver Infiniti sedan parked in a lot outside an administrative building in the 600 block of Langsdorf Drive, Fullerton police Lt. Jon Radus said.
A witness called 911 and described the suspect as a man in his mid-20s with black hair, wearing a black shirt and black pants, Radus said. The suspect was last seen running north on Langsdorf and then east on Nutwood Avenue, Radus said.
Orange County Sheriff's Department bloodhounds were being used to help search for the suspect, Radus said.
Fullerton police later summoned a bomb squad to check a backpack that was found underneath the victim's car. The bomb squad later found an incendiary device inside the backpack, along with tools that could be used in a kidnapping, police said.
Radus said both the victim and suspect were of Asian descent, but it was still unclear what motivated the crime.
EARLIER:
The CSU Fullerton Police Department said that an assault with a deadly weapon was reported around 8:30 a.m. in the parking lot south of College Park building.
Authorities said they discovered the faculty member, identified as a man in his late 50s, sitting inside of a silver Infiniti sedan suffering from multiple stab wounds. The victim was pronounced dead at the scene. He was not immediately identified by authorities.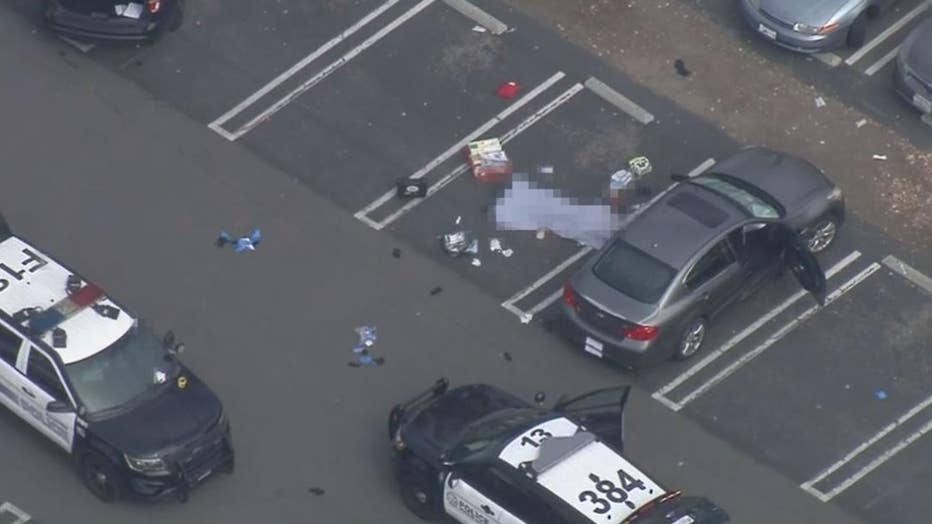 Police said the victim was a retired annuitant who was back at Cal State Fullerton working in international student registration.
Suggested: Authorities investigating officer-involved shooting in Fullerton involving Buena Park police
"We do not believe that there is an active stabber on the loose at this particular time," Fullerton Police Sgt. Jon Radus said in a press conference.
The suspect was described by police as a male in his mid-20s. A witness who called 911 said the suspect fled on foot. He was last seen running north on Langsdorf and then east on Nutwood Avenue wearing black pants and a black shirt, Radus said.
Police ask the public not to approach the suspect, instead, contact Fullerton Police with any information by calling 714-738-8600.
Cal State Fullerton President Framroze Virjee released a letter that in part said:
"In these dark hours, I take solace in knowing that we are a deeply connected Titan Family who love and respect each other beyond measure, and like all families, in the face of such tragedy, our bonds will only strengthen; our sense of community will only heighten; and our love for one another will only deepen. In the days and weeks to come, I am confident that it will be these Titan Family attributes that provide the comfort and care we need not only to grieve and heal, but also to honor Steven's life and legacy."
CNS contributed to this report.