Restaurants, barbershops and hair salons allowed to reopen in Los Angeles
LOS ANGELES - The city of Los Angeles is taking a major step forward to reopening.
Starting Friday, May 29 restaurants, barbershops and hair salons can reopen within the city.
During a press briefing Friday evening, Mayor Eric Garcetti said stylists can only serve one client at a time and face coverings must be worn. 
Meanwhile, nail services and spa services like massages, facials and waxing are still not allowed. 
Speaking about the restaurant industry, Mayor Garcetti said outdoor seating and curbside pickup will be prioritized. Bar services will remain closed and indoor occupancy will be limited to 60%. 
"You can make the reopening process easier and safer by paying with a card, not cash and making a reservation," Garcetti stated. 
During the press conference, the mayor introduced a new program titled 'L.A. Al Fresco' which will help provide more outdoor space to local restaurants in order to promote physical distancing. 
At no cost to restaurant owners, the city will make way for additional seating in private parking lots and sidewalks and could expand to streets in the future. 
Garcetti said eligible restaurants will immediately be approved.
Restaurants can apply for the program by visiting  http://Coronavirus.LACity.org/AlFresco.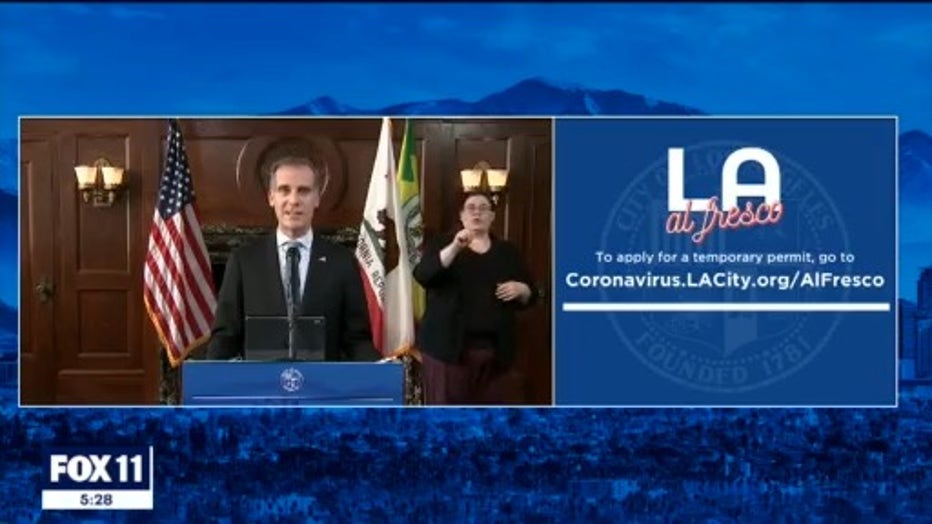 The mayor stressed that businesses are not mandated to open if they feel it is not right for them. 
"If you are a business owner, take your time to get it right, make sure you are safe for your customers and employees," he added. 
Office space businesses are also allowed to reopen, only if telework is not available, the mayor said.
"If you can work from home, then you still need to work from home."