Rep. Adam Schiff proposes additional unemployment assistance for gig workers
LOS ANGELES - As Congress debates extending additional unemployment benefits for millions of out-of-work Americans beyond July 31, a bill by two California representatives aims to make up for an omission in the CARES Act.
This week, Reps. Adam Schiff (D-Burbank) and Judy Chu (D-Pasadena) introduced the Mixed Earner Pandemic Unemployment Assistance Act to provide assistance to independent contractors, freelancers, and gig workers.
Schiff, speaking exclusively with FOX 11's Elex Michaelson for The Issue Is, explained the need for added support to those with mixed incomes.
"There's a subset of those employees and workers, who have mixed income, which means they get some sort of traditional income from a W2, maybe it's a royalty payment, but they would get most of their income as an independent contractor, as a 1099."
"Because of a quirk in the law in the CARES Act," Schiff continued, "if you got some of both, you ended up getting little unemployment compensation, in some cases, none at all."
RELATED: Rep. Adam Schiff: TikTok users beware; China could steal your information
Under his and Chu's proposal, freelancers would be able to apply for both pandemic unemployment assistance as an independent contractor AND traditional state unemployment benefits as a full-time employee.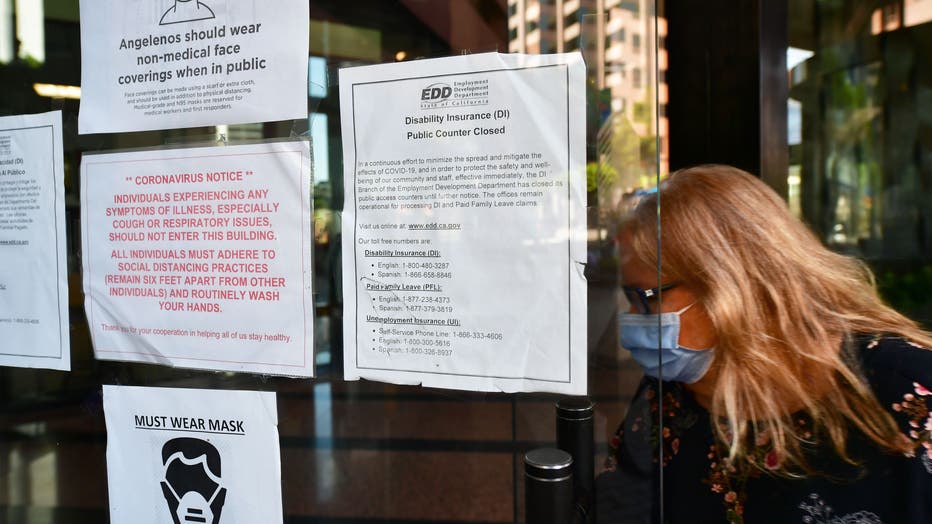 A woman wearing a facemask enters a building where the Employment Development Department has its offices in Los Angeles, California. (Photo by FREDERIC J. BROWN/AFP via Getty Images)
While the timing and method of implementation would be left to the discretion of the states themselves, the proposal also includes a retroactive provision of additional benefits to freelancers who had not previously qualified for assistance under the CARES Act because of their mixed earning status.
Schiff said he hopes the bill will solve the problem of many workers being left out, allowing them to get the unemployment compensation he says they deserve.
Other California lawmakers who have co-sponsored Schiff and Chu's bill include Jared Huffman (CA-San Rafael), John Garamendi (CA-Walnut Grove), Tony Cárdenas (CA-San Fernando Valley), Brad Sherman (CA-Sherman Oaks), Ted Lieu (CA-Torrance), Nanette Diaz Barragán (CA-San Pedro), and Katie Porter (CA-Irvine).
RELATED: Stay up to date on all coronavirus-related information
The bill has been endorsed by Actors' Equity Association, The Screen Actors Guild, The Writers Guild of America East, the Songwriters Guild of America, and more.
In a wide-ranging interview on The Issue Is, Schiff also discussed the threat Russia and others pose in the lead up to November's election, his proposed legislation to limit Presidential pardon power in the aftermath of Roger Stone's commutation, and the legacy of Congressman John Lewis.
The Issue Is is California's only statewide political show. Watch FOX 11 Los Angeles Fridays at 10:30PM and Sundays at 9:30AM. For more showtimes and information, go to TheIssueIsShow.com.
Get breaking news alerts in the FOX 11 News app. Download for iOS or Android.