Raging fire at Mid-City hotel kills 1, injures 8 others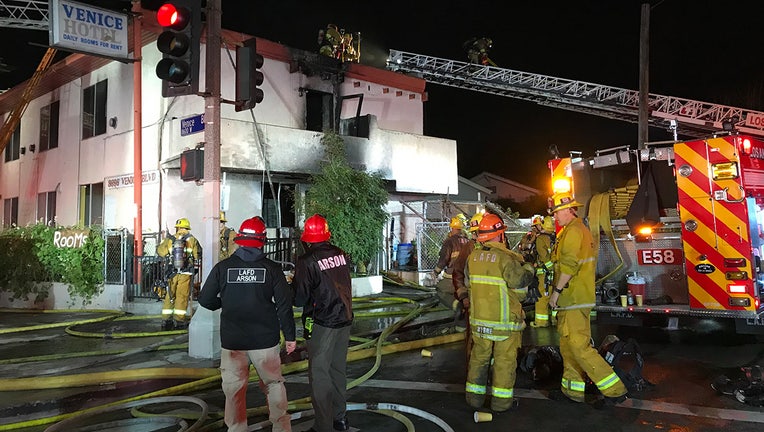 article
LOS ANGELES - An investigation is underway following a deadly fire that sent a firefighter to a hospital and displaced several residents at the Venice Hotel in Mid-City early Friday morning. One person was killed in the blaze.
Los Angeles City firefighters responded to the two-story hotel located in the 8600 block of W. Venice Boulevard just after 2 a.m. The fire started in one of the rooms and spread to both floors of the building by the time firefighters arrived. The blaze was quickly classified as a greater alarm fire, which called for additional resources, according to the L.A. Fire Department.
Tamu Khalfani, a longtime resident at the property, went door-to-door attempting to save his neighbors. 
"The guy who lives right across from me went into cardiac arrest...he always has his TV turned up really loud so I made sure to knock especially hard on his door," he said. 
Khalfani attempted to save a friend who lived on the first floor and the two went various routes attempting to escape the flames. Eventually, they were able to contact a maintenance man who works at the property to unlock the back gate, which they had to kick down. Several residents reported they had to kick the same gate in order to escape. 
It took approximately 105 firefighters to put out the fire in 39 minutes.
One of the firefighters was taken to a hospital after suffering from smoke inhalation after he worked to extinguish the blaze. 
A man, identified by the coroner's office as 62-year-old Paul Bisland, died as a result of the fire while six others suffered various degrees of injuries. 
A man and a woman who were originally listed in grave condition are now in serious condition, according to the fire department. Another man remains in critical condition, one man is in fair condition and a victim sought medical attention for lacerations after they jumped from a broken window to flee the fire. 
An additional victim drove himself to the hospital. 
Arson investigators remain at the scene.
No further details were immediately known. The cause of the fire is under investigation.
FOX 11's Kelli Johnson contributed to this report. 
This is a developing news story. Check back for updated information as it becomes available.