Popeyes' Ghost Pepper Wings make return to US menus for limited time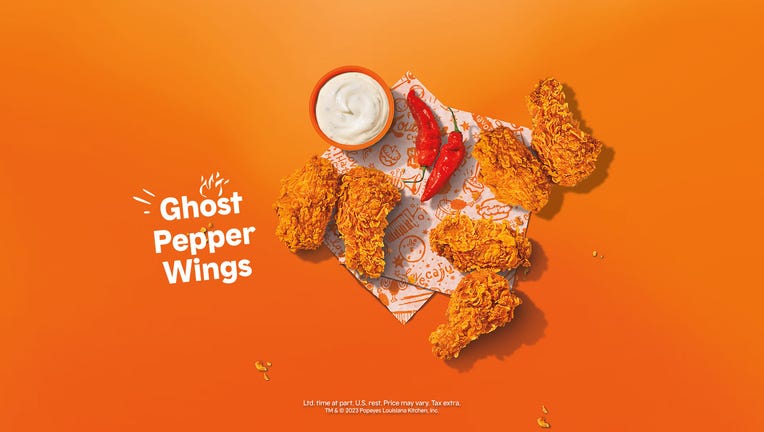 article
Popeyes is heating up 2023 with the return of its Ghost Pepper Wings after a three-year hiatus.
The chicken chain on Tuesday announced that its "fan-favorite" menu item would be available at restaurant locations nationwide for a limited time only. 
An order of Popeyes Ghost Pepper Wings, first launched in 2014, features six crispy chicken wings, marinated in a ghost pepper spice blend for at least 12 hours, then hand-battered and breaded, and served with Popeyes buttermilk ranch. 
Popeyes said six Ghost Pepper Wings are being offered for $5. 
"Our Ghost Pepper Wings have been a fan favorite amongst our guests, combining the perfect amount of spice and flavor for wing lovers," Sami Siddiqui, president of Popeyes North America, said in a statement. 
RELATED: Dry January appears to help mocktail companies, as well as reform old drinking habits
An actual ghost pepper has a Scoville heat unit rating between 855,000 and 1,041,427, which is 10 times hotter than a habanero pepper, according to a 2018 report by the New Orleans Times-Picayune. The newspaper did a taste test of Popeyes' Ghost Pepper Wings at the time, noting how the heat "doesn't hit you at first, but it builds as you eat and lingers in your mouth."
For its part, Popeyes said the wings "balance the perfect level of kick making them a more approachable wing option for those who enjoy a little bit of heat and a whole lot of flavor."
In November, Popeyes also debuted its take on a blackened chicken sandwich with a breading-free version seasoned with a blend of Cajun and Creole spices. 
Fast food chains often bring back menu items periodically to generate brand buzz, including Taco Bell's Nacho Fries and hugely popular Mexican Pizza. 
In the spring of 2022, Taco Bell brought back its Mexican Pizza after eliminating it in late 2020. But after an online petition and social media outcry from fans, the brand announced that it would return nationwide in May. However, Taco Bell quickly sold out after severely "underestimating" demand, and finally, the chain said in September that the Mexican Pizza was coming back to stay permanently.
Meanwhile, other restaurant menu items have made headlines, including the new Pistachio Cream Cold Brew at Starbucks. The Seattle-based coffee giant this week officially shared the drinks and food coming to its 2023 winter menu, which also includes the return of its Pistachio Latte.
RELATED: Foods we're leaving behind in 2022
This story was reported from Cincinnati.