Police searching for 'armed, dangerous' suspect following jewelry store robbery, officer-involved shooting in Glendora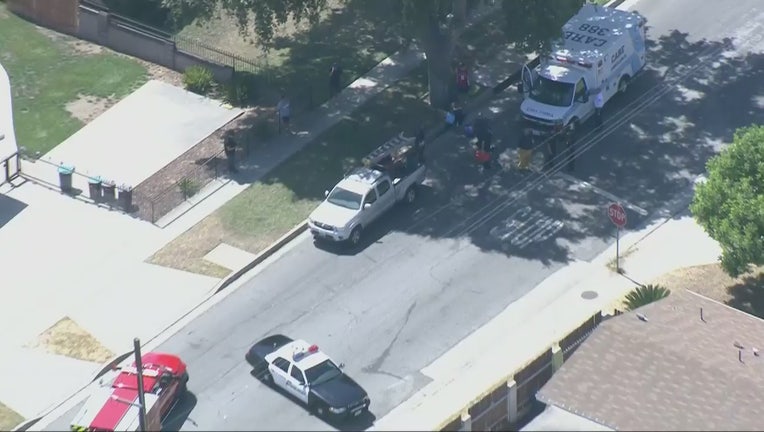 article
GLENDORA, Calif. - A person was wounded Friday in an officer-involved shooting following a jewelry store robbery in Glendora and authorities are still searching for another suspect, who is considered armed and dangerous.
Around 12:14 p.m., Glendora Police officers responded to Lamas Jewelry, located in the 700 block of West Route 66, after receiving a call reporting an armed robbery.
When officers arrived at the scene, they detained a female in a waiting vehicle; she was later arrested. Her name was not released.
Based on statements from witnesses, officers canvassed the area for two additional suspects who were described as being armed with handguns.
An officer-involved shooting occurred after police located one suspect in the area of West Route 66 and Forestdale Avenue, police said. The circumstances surrounding the shooting were not immediately disclosed.
The suspect was transported to an area hospital in an unknown condition, according to the Los Angeles County Fire Department.
Officers are continuing to search the area for the second suspect, who is considered armed and dangerous.
The suspect authorities are searching for was described as a man with a thin build with short dreadlocks and the sides of his head shaved. He was last seen wearing a black hooded sweatshirt or a white t-shirt and blue jeans, according to witness statements. 
Stanton Elementary School was placed on lockdown as a precaution. Glendora Police initially said students will be released by grade with a police escort to the area of Barranca and Mauna Loa for parents to pick up. Parents were encouraged to park at nearby businesses and walk to Barranca and Mauna Loa.
"Any students who walk home will be walked to a secured area and will be accompanied by police officers until they are able to be picked up by parents," Glendora PD said in a tweet.
At 2:13 p.m., Glendora Police said that students would instead be taken by bus to the Citrus College Stadium Lot on the south side. "Parents are encouraged to enter off of Citrus and then walk to the parking lot to be reunited with their children. Our students' safety is our #1 concern."
Foothill Christian School, located at 242 W. Baseline Road, was also placed on lockdown as a precaution.
A portion of Route 66 was closed from Barranca to Grand as authorities investigated.
Residents were asked to avoid the area as authorities conducted their investigation.