Only in LA? Police chase gets Hollywood ending with guns drawn, production crew rushing to scene
LOS ANGELES COUNTY, Calif. - Lights, camera… handcuffs? A police chase in San Gabriel Valley gets a Hollywood ending as the suspect pulls over with guns drawn by officers and a TV production crew rushing to the scene.
SkyFOX was over the scene around 9 p.m. Wednesday as the suspect, accused of possibly stealing the Toyota Camry, was leading the California Highway Patrol on a chase.
The suspect eventually pulled over near East San Gabriel Valley where multiple cop cars caught up to the driver, hopped out of the car and pointed their guns at the Toyota driver. As the suspect was talking to the CHP officers with the windows down, TV or film crews crashed the party with their mic and camera out.
The suspect was placed in custody – with the TV crew documenting it all. It is unknown what project or show the mystery crew members were working on.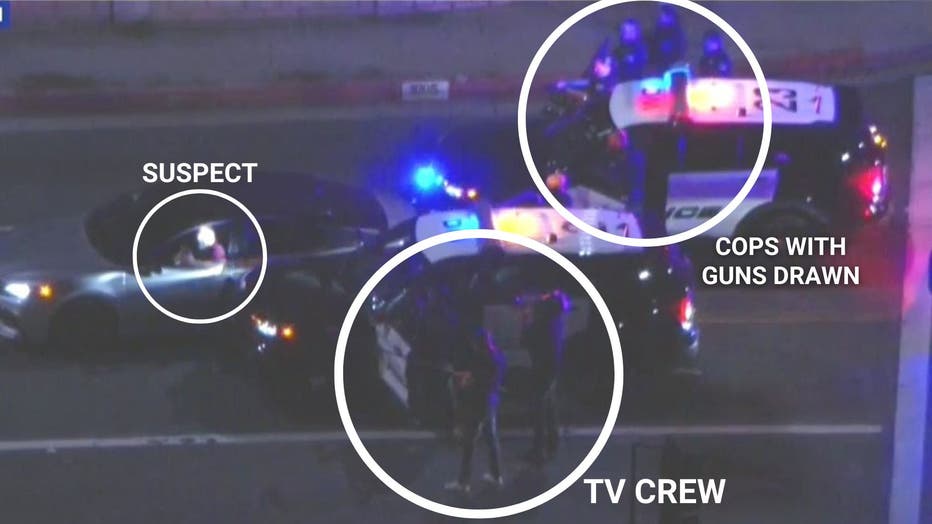 Over the course of the chase, the suspect drove through parts of Glendale, West Covina and East San Gabriel Valley.
Officials did not say where the Toyota may have been stolen from.