Philadelphia police investigating claim Gritty physically assaulted teen
SOUTH PHILADELPHIA - Philadelphia police say they are investigating an accusation that the Philadelphia Flyers mascot 'Gritty' physically assaulted a teenage boy during a photo shoot.
The alleged incident happened in November at the Wells Fargo Center.
Chris Greenwell claims Gritty got aggressive with his 13-year-old son, Brandon, during a special meet and greet with Gritty at an event for Flyers season ticket holders.
---
RELATED STORIES: 
Gritty visits cancer patients at CHOP
Gritty welcomes fans to get 'grittified' at new C.O.M.M.A.N.D. Center
'National Gritty Day': Beloved Flyers mascot demands 'lavish' gifts for 1st birthday
---
"Gritty gets up out of his chair, makes a lunging motion, and punches my son in the lower right side of his back," Greenwell told FOX 29.
Greenwell, a Flyers season ticket holder since 1997, says his son playfully tapped Gritty on the head three times after the photo and as they walked away, Greenwell alleges Gritty fired back.
Two months later, the Philadelphia Police Department confirms the case is under investigation. 
Greenwell told FOX 29 over the phone Wednesday that he went to police when he wasn't getting the answers he wanted from the Flyers.
"I asked for a couple of things. I asked for the video to see and review. I asked for an apology and asked for son's medical bills to be reimbursed," Greenwell explained. "They told me that none of the video cameras were working during the event at the Wells Fargo Center."
Greenwell says he's been criticized on social media accused of having ulterior motives.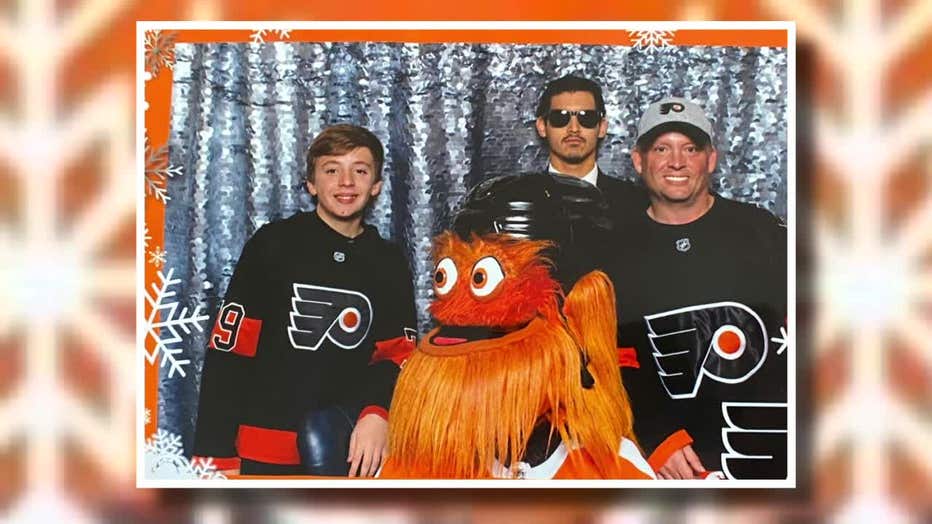 "I do not have an attorney. I'm not suing anybody wanna make that perfectly clear," he said. 
The Flyers said in a statement Wednesday, "We took Mr. Greenwell's allegations seriously and conducted a thorough investigation that found nothing to support this claim."
The police investigation is ongoing with South Detectives. 
___
For the latest local news, sports and weather, download the FOX 29 News app.
DOWNLOAD: FOX 29 NEWS APP