Parents struggle with childcare as remote learning moves forward in LA County
LOS ANGELES - The Los Angeles County Board of Supervisors passed the CARES Act on Tuesday.
It is a $1.2 billion dollar COVID-19 relief package in federal and state funds.
Get breaking news alerts in the FOX 11 News app. Download for iOS or Android.
Within that package, money is set aside to help parents who are desperate for childcare as most school children in California will continue to stay at home for remote learning this fall.  
The vote for the 1.2 billion dollar relief plan will help residents and businesses impacted by COVID-19.
Fifteen million dollars has been earmarked for low-income families and essential workers to help with childcare costs. 
Marisol Rosales lives in a one-bedroom apartment in South LA with her husband and four kids ages 3-11.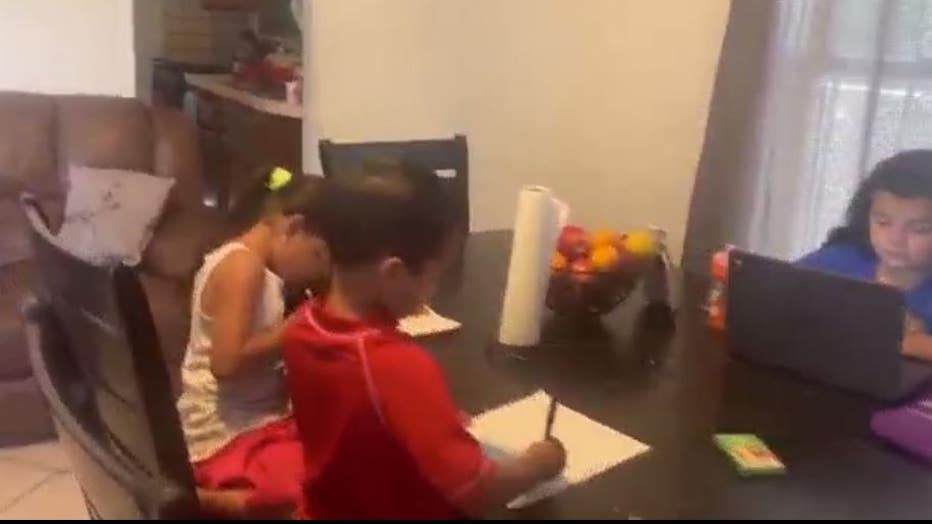 She works from home as a youth case manager all while juggling the children, "I usually try to have the bigger ones in some kind of academic thing and the other two little ones I try to have them entertain with outside play or indoor watching a movie," said Rosales. 
RELATED: Stay up to date on all coronavirus-related information
She said her husband took a leave of absence from work but will be going back soon, leaving her on her own this fall:, "I'm hoping my mom is able to help me for sometime before after school hours. It takes a village to raise the kids though," said Rosales. 
The Childcare Alliance of Los Angeles works with several local agencies who will benefit from the money and can help families like the Rosales' and thousands of others, "This is a great opportunity for us to work with families that are in dire need of child care and a great opportunity for the county to support families through this difficult time." Said Cristina Alvarado, Executive Director, The Childcare Alliance of Los Angeles. 
The alliance says only 25 percent of daycare centers and preschools are open due to COVID-19 leaving many parents with limited options: But Rosales says even if she wanted to hire someone to help her with homeschooling this fall, "It's not in my budget and I don't know how it would fit in my budget so we're just trying to make it work and make ends meet." 
In the meantime, she says the family is navigating this difficult dance together with fun and laughter. 
If you would like more information about childcare resources you can reach out to The Child Care Alliance of Los Angeles their hotline number is 888-922-4453.