Oregon man throws thousands of dollars in cash on I-5 freeway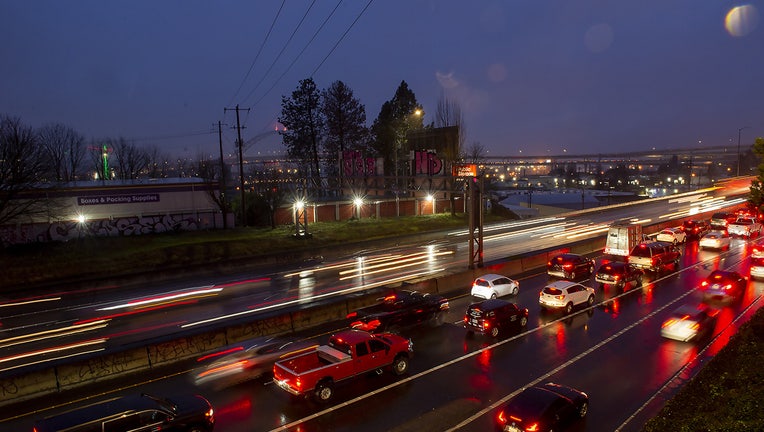 article
EUGENE, Ore. - A man threw thousands of dollars in cash out of his car window onto Oregon's I-5 freeway Tuesday night, with several bystanders stopping their vehicles to pick up the money. 
According to Oregon State Police, troopers received multiple phone calls on April 11 regarding money "floating" along Interstate 5 in Eugene. 
Police said multiple cars were stopped along the roadway, in both the north and south lanes, as people searched for the money which was reportedly $100 dollar bills. 
Troopers responded to the area and were able to contact the individual, later identified as Colin Davis McCarthy. 
The 38-year-old resident of Eugene told troopers he wanted to "gift the money," which he estimated at $200,000. Police said there wasn't a way to confirm how much money was actually gifted. 
Troopers asked McCarthy to stop throwing money out of his window because it was "causing a significant traffic hazard." They said McCarthy was cooperative and agreed to stop leaving money on the roadway.
Troopers were unable to locate any further currency after the incident. They followed up the following morning and were still unable to locate further bills along the roadway.
RELATED: Driver seen throwing money out the window during chase with Houston police
According to local news outlet KEZI, OSP spoke with a relative of McCarthy who allegedly told them that this was normal behavior for him. They also reportedly said McCarthy gained the money he threw on the interstate by draining his family's shared bank accounts, "leaving them penniless." 
OSP said they are still urging the public to avoid the temptation to go looking for money along the highway.  
"Motorists stopping along the highway and inserting pedestrian traffic along the highway creates a hazard for passing motorists and the pedestrians themselves," Captain Kyle Kennedy told FOX Television Stations. "Emergency lanes are meant for emergencies, so parking cars along those areas is unsafe in general.  We are asking the public to avoid the area to prevent a hazardous situation and also because we don't believe there is anything to be found at this point." 
 At this time, no criminal charges are being considered. 
This story was reported from Los Angeles.