Need your passport expedited? There are options but they'll cost you
If you're planning any international travel within the next year — and you need to get a U.S. passport or renew your existing passport — it's to your advantage to start the process now.
Given the high demand for passports this year, the current U.S. passport processing times are 10 to 13 weeks for routine processing and 7 to 9 weeks for expedited processing — the latter costing an additional $60.
"We encourage all Americans to check their passports and renew now if they are planning international travel this year," said Rachel Arndt, deputy assistant secretary for passport services, with the U.S. Department of State.
STATE DEPARTMENT WARNS PASSPORT PROCESSING DELAYED AMID 'UNPRECEDENTED DEMAND' 
In addition, make sure your passport requirements align with your travel plans. 
"Travelers should also remember that some countries require that a passport be valid at least six months beyond the dates of their trip, and they should check our 'country information' pages to learn about entry and exit requirements for the country they are visiting," Arndt told FOX Business.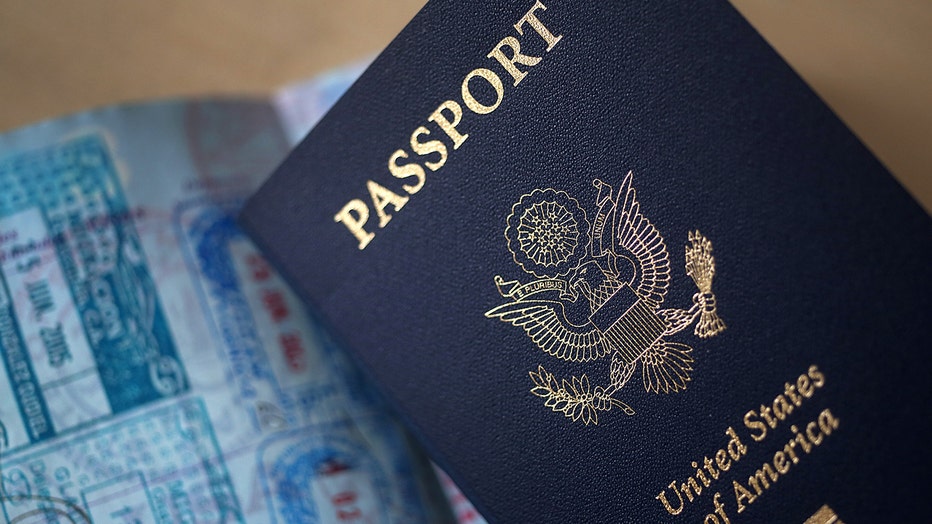 U.S. passports are arranged for a photograph in New York, U.S., on Tuesday, April 23, 2013. A court challenge by federal immigration agents seeking to block President Barack Obama's deferred-deportation initiative will probably succeed, a judge said.
"Our message to U.S. citizens is to apply at least six months in advance of your planned travel or your passport's expiration date." 
"These processing times do not include mailing times, and begin when we receive the application," she said. 
"We continue to advise travelers to carefully review the current passport processing times on travel.state.gov before making any definite or non-refundable travel plans," she also said.
Backlog of processing passports: What's causing it? 
As more Americans travel internationally again, Arndt said there is an unprecedented demand for passports. 
"In fiscal year 2022, we issued nearly 22 million passports — more than ever before — and we are on track to break that record again for fiscal year 2023," she reported.
"U.S. citizens are returning to international travel and connecting with the world in droves," she said. 
"More Americans have passports than at any time in our history — 46% today versus 30% in 2008."  
"We anticipate that this increased demand for passports will continue."
What if you need your passport expedited?
Arndt reported the following: Individuals who have not yet applied should submit a first-time application at a passport acceptance facility or renewal by mail and select expedited service for an additional $60, and Priority Mail Express and 1-2 day delivery of the completed passport for an additional $19.53.  
"We will make every effort to issue a passport in time for international travel," Arndt told FOX Business. 
Where you apply for a passport depends on how fast you need your passport and what passport forms you are submitting, according to the U.S. Department of State.
When it comes to submitting your application, there are three options.
1. In person at an acceptance facility 
Acceptance facilities include post offices, clerks of court, public libraries and other local government offices that accept passport applications on behalf of the U.S. Department of State. 
There are over 7,500 acceptance facilities nationwide. 
RELATED: Americans traveling to Europe will need 'visas' starting in 2024
Acceptance facilities accept routine applications (10 to 13 weeks) as well as expedited applications (7 to 9 weeks) for an additional $60 expediting fee. 
Facilities can be located at https://iafdb.travel.state.gov.
2. By mail
This is for those who are eligible to renew their passport using the DS-82 renewal application.
3. In person at a passport agency or center, by appointment
This is for applicants who have urgent travel within 14 days. Appointments are made by calling the National Passport Information Center at 1-877-487-2778 Monday through Friday, 8 a.m. to 10 p.m. Eastern, according to the State Department. 
Also, an individual must apply in person if one of the following statements applies to their situation, according to the U.S. State Department. 
I am applying for my first U.S. passport.
I am applying for my child who is under age 16.
My previous U.S. passport was issued when I was under age 16.
My previous U.S. passport was lost, stolen or damaged.
My previous U.S. passport was issued more than 15 years ago.
(If none of the above statements apply, then applicants may be eligible to renew by mail.)
If there's truly an emergency, the U.S. Department of State has processes in place.
"We have procedures in place for those Americans who must travel at the last minute for qualifying emergency, life-or-death situations," Arndt told FOX Business.
"This typically refers to travel within three business days because an immediate family member outside of the United States has died, is dying or has a life-threatening illness or injury," she said. 
Can you pay a third party for faster service?
Courier companies, also known as passport expeditors, are private companies that charge fees in order to submit applications on customers' behalf, said Arndt.
Courier companies charge additional fees for their services, and applicants are still required to appear in person at a passport acceptance facility if applying on the Form DS-11, even when using a courier service, she said.
EXPEDIA ROLLS OUT CHATGPT-POWERED TRAVEL PLANNING FEATURE IN APP
"While many courier companies provide a valuable service, we advise applicants to practice due diligence by researching courier companies because they will have access to sensitive personal information and documents," she cautioned. 
"Applicants will not receive their passport any faster through a courier company than they would by applying in person at a passport agency," she said as well. 
As noted, 7 to 9 weeks is the current quoted expedited timeframe for processing due to the backlog. 
The State Department issues passports by appointment only at local passport agencies, but there's often another issue impacting citizens seeking passports.
"It is currently hard to secure these in-person appointments; only limited appointments are available," said David Alwadish, CEO of ItsEasy Passport & Visa Services.
Companies like ItsEasy don't circumvent processing time — but Alwadish said they add to the government agencies' efficiency by understanding what it takes for them to process a passport quickly, so errors won't hold up your passport. 
AIRLINES CAN KEEP FLYING REDUCED SCHEDULES TO NYC, WASHINGTON THROUGH OCTOBER, FAA SAYS
"We're preparing the documents in a way that enables the agents to offer the most exceptional service," he said. 
"Sometimes people forget to sign checks, the photos are no good, their handwritten forms are difficult to read, or they forget to include all the necessary information.  ItsEasy's passport experts review each application and photo by hand," he noted. 
"If we find issues, we explain how to fix them. By preventing the applicant from a suspended application, we ensure the fastest possible processing."
You may also benefit from open appointments that courier companies can secure, he suggested. 
"We also have slots that have been allocated to courier companies like ItsEasy, where we can go to the agencies to submit a certain number of passports in-person for a 3-10 day processing timeframe," Alwadish said. 
"The slots were initially designed and allocated for people such as the handicapped, the elderly, those who live in jurisdictions not serviced by a State-run passport agency or those who can't get to the passport agency for a certain reason."
These appointments are a hot commodity — and you may not get one close to home.
"Passport agencies say that their appointments are free," said Alwadish. "But if you have to fly to Puerto Rico or Honolulu, for example, with your whole family, for your free appointment because it's the only one available and you urgently need a passport, it still comes at a cost."
He added, "Alternatively, you can use ItsEasy and save hundreds if not thousands of dollars that you would have spent on flights, accommodations and more, just to get to a passport agency appointment for your 'free' rush passport."
It costs $60 to request an expedited passport renewal through the government. 
(And applicants are encouraged to pre-pay for USPS Priority Mail Express return shipping costing $19.53.)
If you need your passport within 14 days, ItsEasy's services for rush passports are as low as $349, Alwadish stated.