Marriage COVID-19 style: Couples say 'I Do' again in Orange County
ANAHEIM, Calif. - Postponed by the pandemic, marriage services are being offered again for couples in Orange County.
The Orange County Clerk-Recorder Department is now offering marriage licenses and civil marriage ceremonies to couples.
Happy couples can now sign up as long as you don't mind:
-making an appointment
-waiting in a car until you are called
-saying your vows in front of a ticket booth in the mostly empty, cordoned off parking lot of a stadium
-have your witness at least 6 feet away, and the rest of your loved one watching on zoom or whatever type of social media you can get a signal for.
-kiss while wearing a mask - hey, a blue mask does count in that wearing "something old, something blue" deal.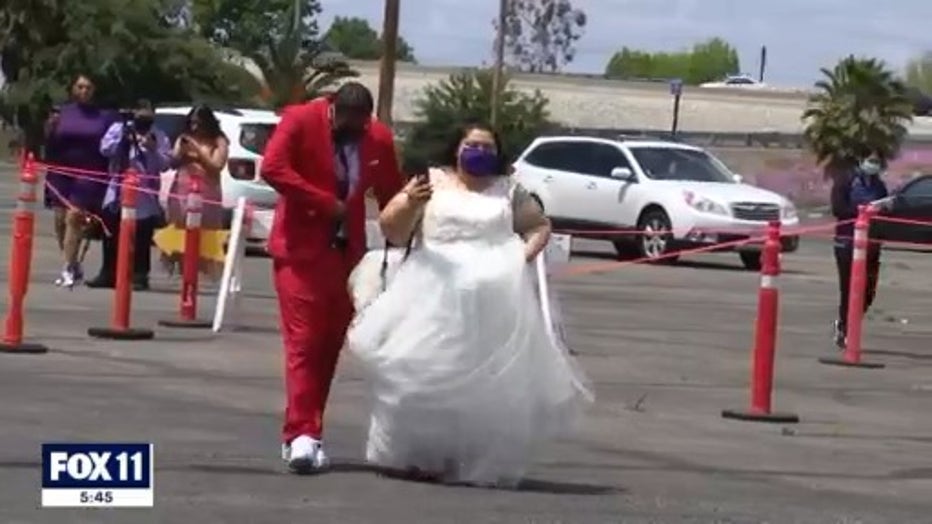 After most county services were postponed when stay at home orders were placed last month, almost a thousand wedding appointments were cancelled at the Orange County registrars. But today, 46 marriage licenses were issued, along with 32 marriage ceremonies.
County officials will continue holding the ceremonies at the Honda Center in Anaheim but you can't just show up. You must call the Marriage Service Hotline at 714-834-2740
Appointment are available 8am to 430pm.
-couples must complete their marriage licenses on line, prior to calling.
-60 appointments offered daily
-social distancing guidelines are mandatory
-you will need valid photo id and pay with a check or money order.
Take a look at our piece… obvious that love does find a way…. even during a pandemic.