Manhattan Beach to issue citations for not wearing a face-covering in public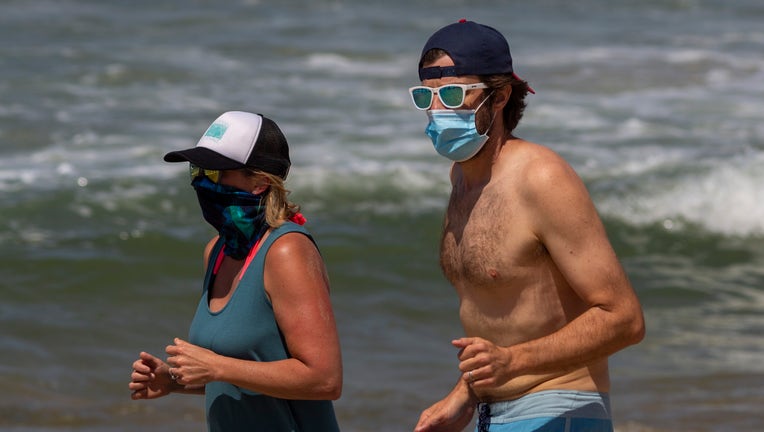 article
MANHATTAN BEACH, Calif. - Manhattan Beach became the latest Southern California city to begin issuing citations to residents who don't wear a face-covering in public when required to, city officials said Thursday.
The decision comes after the city council Tuesday directed City Manager and Director of Emergency Services, Bruce Moe, to issue an emergency order strengthening the requirement to wear a face-covering when in public, and setting penalties for those who do not comply with the order. 
The emergency order authorizes administrative citations for failing to wear a face-covering with fines of $100 for the first violation, $200 for a second violation, and $350 for each subsequent violation. The emergency order went into effect Wednesday.
There are exceptions for children under the age of two, people with a disability, medical or mental health condition, swimmers and surfers. Everyone else must wear one, including runners, people exercising or anyone laying out on the beach.
This after city officials said they've seen a 140 percent increase in COVID-19 cases within the last month.
Get breaking news alerts in the FOX 11 News app. Download for iOS or Android.
"The drastic increase in positive COVID-19 cases in our city and around Los Angeles County have shown us that additional measures must be taken to make it clear to the public that face coverings are essential right now," said Mayor Richard Montgomery. "The time for warnings is over. Face coverings must be worn when you are outside of your home in order to prevent the spread of COVID-19."
The mayor said that if residents don't take action immediately to slow the spread of the virus, Governor Gavin Newsom could expand business sector closures or even reclose the city's beloved beaches.  
"We want to do the right thing and be proactive to avoid additional negative consequences," he said.
In response, one resident called the new order "silly," while another questioned if the new policy would be enforced. 
"Out in public I can see when you're close, I can see. But out like this, it's pretty silly," one resident said.
"It seems a little abrupt, a little excessive, but I'm not sure how much it will be enforced. It wasn't totally enforced back on the beach back in April, May when they reopened either so we'll see," another resident said.
RELATED: Stay up to date on all coronavirus-related information 
City officials told FOX 11 that they'll be using specialized code enforcement officers, as well as police officers to enforce the mask mandate.
The cities of West Hollywood, Santa Monica and Beverly Hills have all enacted similar emergency orders in recent weeks, as the number of coronavirus cases and hospitalizations in LA County surged.
"It is the community's shared responsibility to slow the spread of COVID-19. By adhering to social distancing, wearing face coverings, being safer at home, hand washing, and avoiding crowds, confined spaces, and close contact, we can collectively mitigate future surges in coronavirus cases," city officials wrote.
Click here for more information.