Man turns to Craigslist to find woman who saved his life in 1972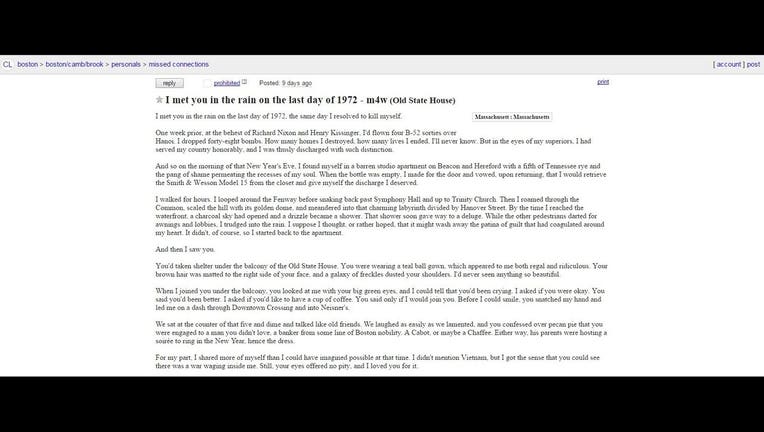 article
(FOX 11) - A man recently posted in the Craigslist personals section telling a story about a woman he says unknowingly saved his life more than 40 years ago -- and the heartwarming story has gone viral.
Warning: This will give you all the feels.
In an anonymous missed connections ad, the Vietnam War veteran describes how he'd been contemplating suicide.
"I met you in the rain on the last day of 1972, the same day I resolved to kill myself," he writes.
He served as an Air Force pilot, and having just returned home from Vietnam, was struggling with an overwhelming sense of guilt, he writes.
"I dropped forty-eight bombs. How many homes I destroyed, how many lives I ended, I'll never know," the post reads.
The man went for a walk in the rain, and says that's when he saw this woman who indirectly changed his whole perspective.
"You'd taken shelter under the balcony of the Old State House. You were wearing a teal ball gown, which appeared to me both regal and ridiculous... When I joined you under the balcony, you looked at me with your big green eyes, and I could tell that you'd been crying. I asked if you were okay. You said you'd been better."
He says the pair decided to go for a cup of coffee, where they "talked like old friends" and shared very personal things.
After an hour or so, the man says he excused himself to use the restroom.
"On the way back to the counter, my heart thumped in my chest like an angry judge's gavel, and a future -- our future -- flickered in my mind. But when I reached the stools, you were gone. No phone number. No note. Nothing," he wrote.
The man says he returned to the same diner every day for a year, but never saw the woman. It's been four decades, but he says he's never stopped thinking about their encounter and how it affected him.
"Ironically, the torture of your abandonment seemed to swallow my self-loathing, and the prospect of suicide was suddenly less appealing than the prospect of discovering what had happened in that restaurant," he writes. "The truth is I never really stopped wondering."
He ends the post with this:
"So wherever you've been, wherever you are, and wherever you're going, know this: you're with me still."
Tap here to read the entire post on Craigslist.
Copyright 2015 FOX 11 Los Angeles: Download our mobile app for breaking news alerts or to watch FOX 11 News | Follow us on Facebook, Twitter and YouTube.