Large parties held across Los Angeles area over weekend, despite health orders
LOS ANGELES - Several large parties were held in the Los Angeles area over the weekend, brazenly violating public health orders during the COVID-19 pandemic.
On Saturday, a massive party was held at a mansion in Glendora at the 1100 block of East Sierra Madre Avenue.
FOX 11 had an undercover camera crew outside of the party.
Hundreds were seen gathering inside with no masks, and no social distancing.
Those attending the party are mainly young adults, the demographic health officials say fueled a rise in COVID-19 cases. 
"We don't feel safe, there's people, the people that rent the place, the people who they bring in. We don't know who they are, we have no idea if its friends bringing friends and its scary because they don't care about where we live and who we are," said one neighbor.
Glendora Police eventually broke up the party which was promoted on Instagram with music, guests, presale tickets and off site bus transportation. 
Word of the party was posted by an Instagram account called djxtraz27.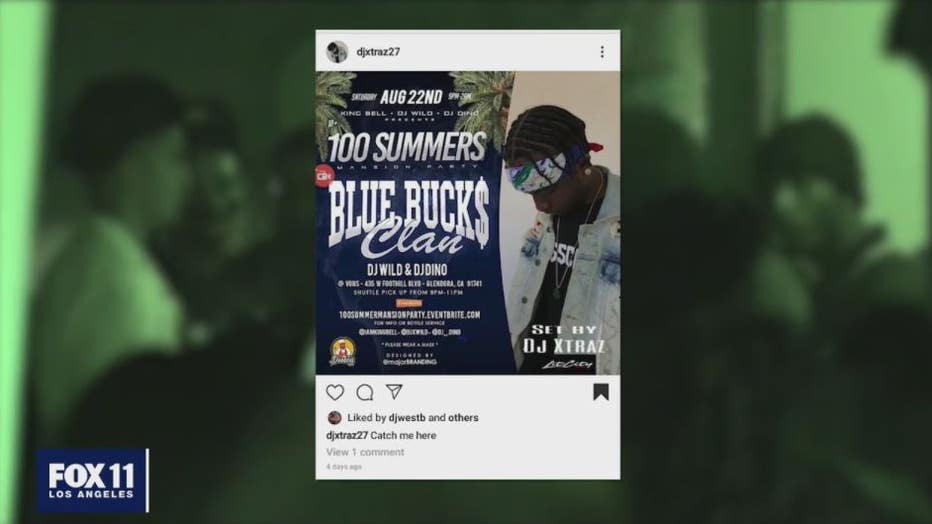 That same account also promoted a large pool party on Saticoy Street in Reseda on Sunday afternoon.
SkyFOX was overhead as partygoers blatantly violated health orders. Police stopped by the house once to give a warning, but then shut it down hours later when those warnings were ignored.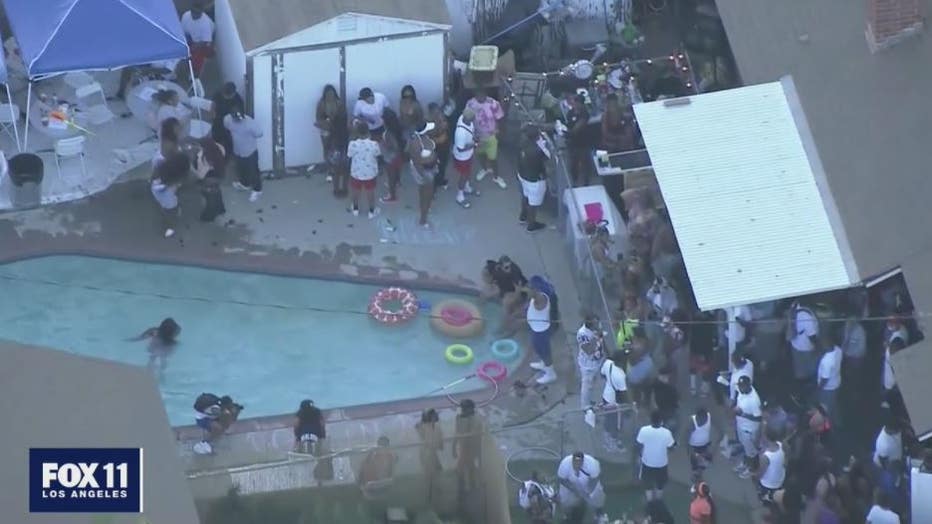 Sunday night into Monday morning another large party was hosted in the Hollywood Hills.
Police say they broke up a large party with about 200 people around 2:30 a.m. at a house in the 7300 block of Caverna Drive. Neighbors there say they are fed up. 
"We can't stand these callous people who are having parties like this. I'm furious, I want to live, some people don't care if we live or die," stated a neighbor.
RELATED: LA mayor orders DWP to shut off services to houses, businesses that host large parties
Garcetti authorizes shut down of utility services at party house in Hollywood Hills
Residents in the Hollywood Hills say they want Mayor Garcetti to turn the power and water off at that house. 
Earlier this month, the mayor authorized the Department of Water and Power to shut off services to houses or businesses that host large parties.
A house in the Hollywood Hills, a rental property belonging to TikTok influencer Bryce Hall, had their power shut off after several large parties were held there.