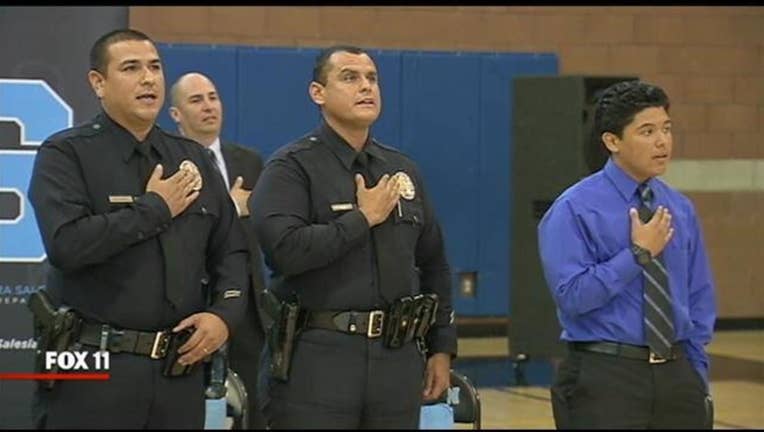 article
LOS ANGELES (FOX 11) - The LAPD motto "to protect and serve" was never more evident than it was in the Hollenbeck Division last week when two patrol officers were asked to help a high school freshman with his necktie.


Fourteen year old Xavier Cazales getting ready to go to school to have his picture taken when he realized that he didn't know how to knot a necktie. His mother didn't either. Videos on Youtube were no help. Xavier thought he would be able to get help from a teacher or a counselor when he arrived at Bishop Mora Salesian High School in Boyle Heights. But Susanna Gutierrez became more concerned as she drove her son to school.

When she spotted an LAPD patrol car, she told Xavier to ask the officers for help with his necktie. Officers Jonathan Maldonado and Alberto Ledesma were surprised by the request but happy to help. Their uniforms include neckties but for safety reasons, they are the clip-type. Fortunately, Officer Maldonado had served in the United States Marine Corps so he remembered how to tie a basic knot which is what he did for Xavier. Within a few minutes the teen and his mother were on their way to school with a properly knotted tie and the officers returned to patrolling the Hollenbeck Division. When Xavier's story went viral this week, Bishop Mora Salesian High School invited Officers Lesdesma and Maldonado to visit the Boyle Heights campus where they were given gift bags--which included a tie--to show the school's appreciation for going above and beyond he call of duty. Later during the presentaton ceremony, Deacon Sergio Perez delivered an amazing talk about the importance and the diversity of the things Salesian students will learn during their time there. All the while, Deacon Perez was speaking at the podium and knotting his own tie, without the help of a mirror. Information about the LAPD Hollenbeck Division is available here . Additional information about Bishop Mora Salesian High School is available here . Copyright 2015 FOX 11 Los Angeles : Download our mobile app for breaking news alerts or to watch FOX 11 News | Follow us on Facebook, Twitter and YouTube.