Krispy Kreme releases new pumpkin spice doughnuts, coffee drinks before autumn kicks off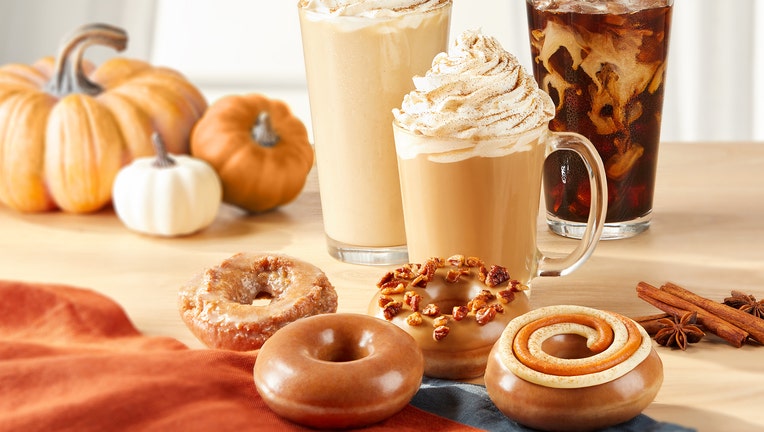 article
Krispy Kreme is celebrating "Pumpkin Spice Season" on Monday by offering a collection of doughnuts and coffee drinks for autumn lovers to enjoy.
The beloved doughnut chain is offering four new doughnut flavors for a limited time. The Pumpkin Spice Cheesecake Swirl Doughnut features a "decadent" pumpkin buttercream and cream cheese icing swirl with a topping of cinnamon sugar.
Pecan lovers can purchase the Pumpkin Spice Maple Pecan Doughnut, which is hand-dipped in "rich" maple icing and topped with "perfectly crunchy candied pecan pieces."
Customers looking for a more classic doughnut can purchase the Pumpkin Spice Original Glazed Doughnut, which bring "just the right amount of pumpkin spice flavor in every melt-in-your-mouth bite."
MCDONALD'S DOING WIDER TEST OF KRISPY KREME DOUGHNUT SALES IN KENTUCKY
The fourth option is an old-fashioned Pumpkin Spice Cake Doughnut, which the chain calls one of their "most anticipated seasonal fan-favorites." The crumbly cake donut is glazed and packed with pumpkin spice flavor.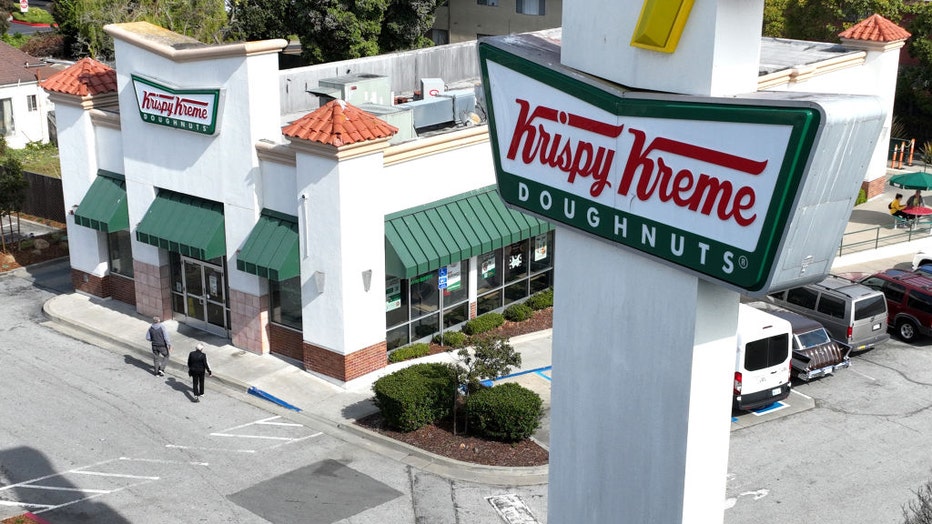 In an aerial view, a sign is posted in front of a Krispy Kreme doughnut store on May 12, 2022 in Daly City, California. (Justin Sullivan/Getty Images)
The chain is also offering iced, frozen and hot Pumpkin Spice Coffees and Pumpkin Spice Lattes.
KRISPY KREME LAUNCHES TWIX DOUGHNUTS IN 1ST COLLAB WITH CANDY BRAND
"The barista quality coffees are made from a limited-release pumpkin spice coffee blend, specially crafted with notes of pumpkin, nutmeg and cinnamon," Krispy Kreme said in a press release.
"Year after year, we fall in love all over again with pumpkin spice-flavored treats, and this year pumpkin spice lovers will fall the hardest at Krispy Kreme," Krispy Kreme Global Chief Brand Officer Dave Skena said in the release. "Combining two new pumpkin spice doughnuts with two fan favorites – we're saying to the spice AND our fans, 'P.S., we love you'!"
Krispy Kreme's Pumpkin Spice Collection is available in-shop or for delivery and pickup with the Krispy Kreme mobile app. Participating stores are also offering 6-packs of the Pumpkin Spice Cheesecake Swirl Doughnuts and Pumpkin Spice Cake Doughnuts, which are delivered daily.