Koreatown hoarder: LA City crews working to clean up piles of junk outside home
LOS ANGELES - Residents of a Koreatown neighborhood watched as public works crews started to clean a home described as an "eyesore" with items like furniture, kitchen appliances and laundry bins piled on the front lawn.
FOX 11 was on Harvard Boulevard where piles of trash and debris were being cleared from the homeowner's driveway early Thursday morning.
RELATED: Koreatown hoarding home: LA City Council pledges to clean towering mess
"Oh my god. Disgusting! It's terrible! All of us are suffering!" said neighbor Leticia Ruiz. 
The 77-year-old resident has lived in the neighboring home since 1981 and says she has been filing complaints with the City for over two years. 
"I'm so happy and grateful, but I feel sad it took the city so long to help us," Ruiz added.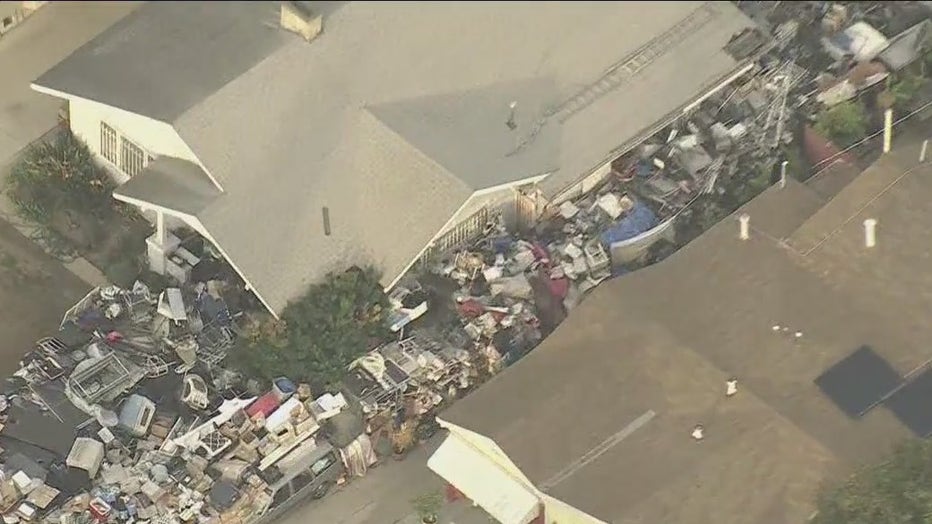 The home is occupied by a man and his elderly mother. The homeowner's son spoke with FOX 11's Mario Ramirez and says his mother became ill during the pandemic. He said after moving in to care for her over the last several months, he began moving piles of her belongings from the backyard to the front of the home.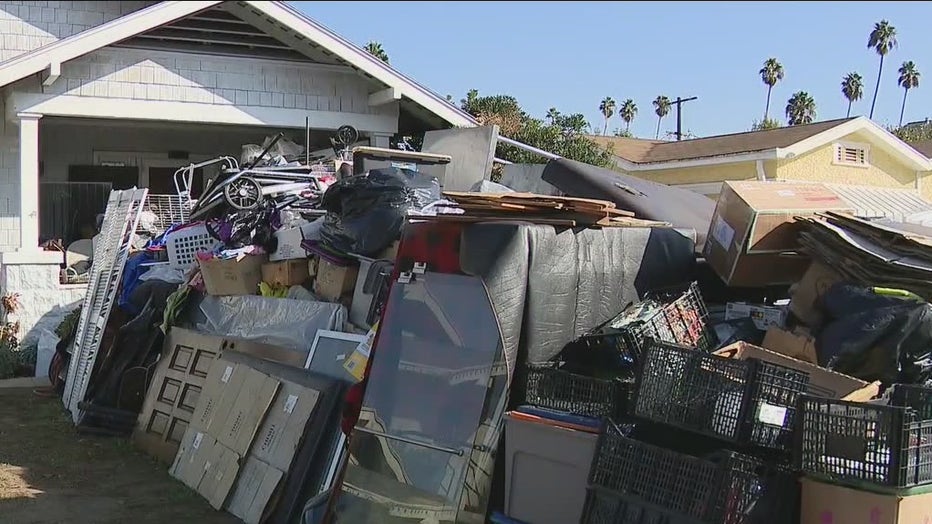 Get your top stories delivered daily! Sign up for FOX 11's Fast 5 newsletter. And, get breaking news alerts in the FOX 11 News app. Download for iOS or Android.
The growing piles of trash and debris drew even more attention from concerned neighbors in recent weeks. 
On Tuesday, a statement from Los Angeles's 10th District City Council Office revealed the public health and safety concerns were raised in court.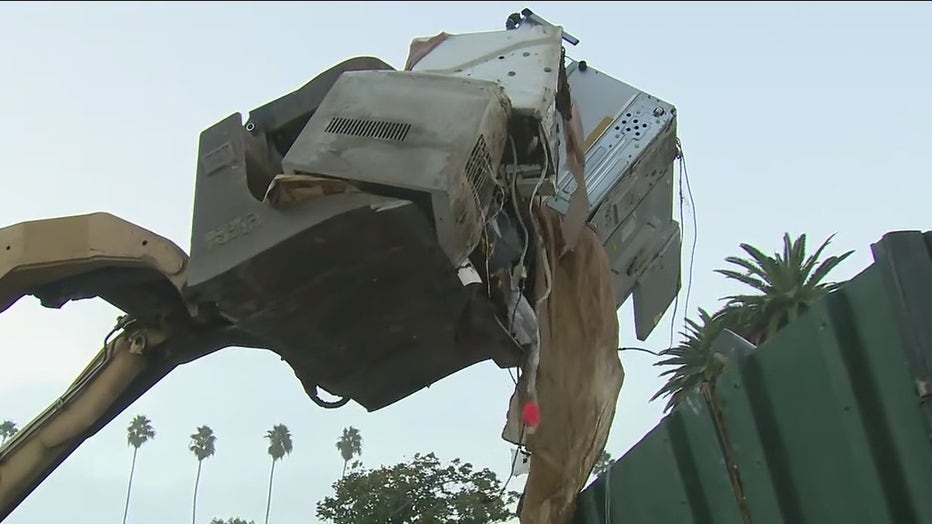 Below is a statement released Tuesday by Karly Katona, Chief of Staff of the 10th District City Council:
"Ever since this location was first brought to our attention in late August, the 10th Council District team has actively engaged the Fire Department, Building and Safety Department, City Attorney's Office, as well as appropriate County agencies and neighbors, in an effort to bring swift resolution to this concerning matter. At the request of our office, the Neighborhood Prosecutor from the City Attorney's Office is in court today seeking support from the court to address the public health and safety concerns by allowing City crews to clean up the property in a timely manner."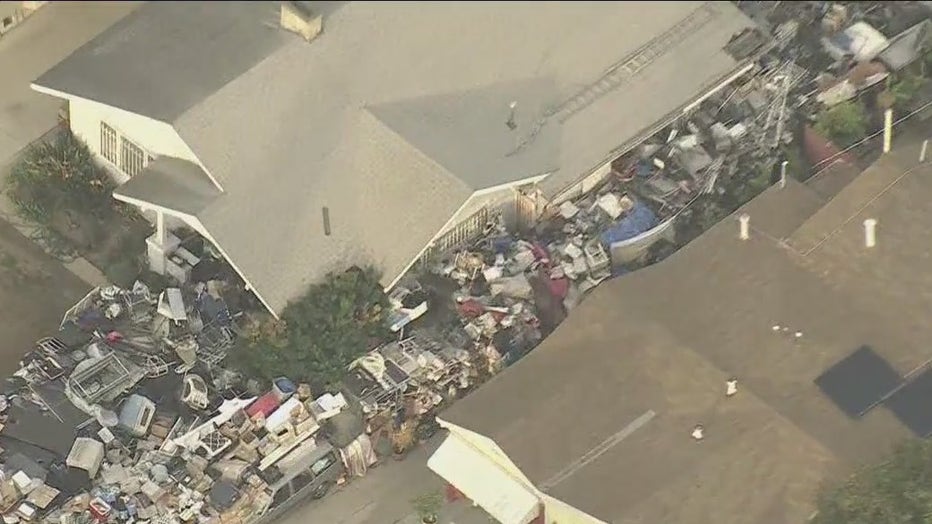 According to records from the Los Angeles Department of Building and Safety, the home has been cited for code violations by the city multiple times since 2010.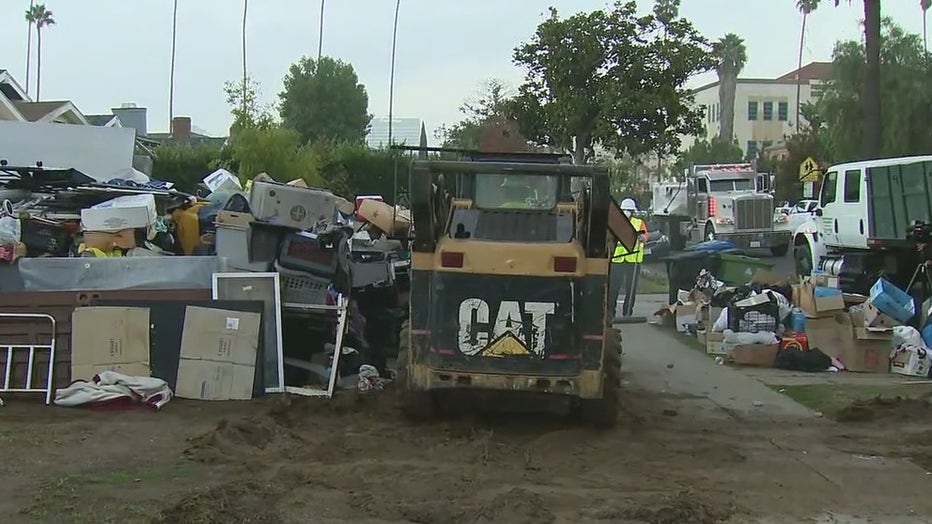 "I'm just finally glad that something is being done about it," said neighbor Edward Lim.  "The only major concern I have right now is once we start removing these things, and all the nasties that they were in there start to come out. Hopefully, they don't migrate to our house."
Tune in to FOX 11 Los Angeles for the latest Southern California news.