Kirk Cameron, previously denied spots at public libraries, speaks out in California
Actor, writer and producer Kirk Cameron recently announced that he'll be traveling to public libraries all across America to share the story of his faith-based book, "As You Grow" — and he made good on that promise on Saturday, Jan. 14, as he appeared at the Placentia Library in Placentia, California, about 30 miles from Los Angeles.
Cameron recently told Fox News Digital that parents, grandparents and caregivers have been "crying out," he said, "for someone to push back" against today's woke culture.
So — "I'm hitting the road," he said.
On Saturday, his journey began — and he has stops planned afterward in San Francisco, Portland, Seattle, Denver, Chicago, Detroit, Atlanta and other cities. 
Approximately 1,000 people came out to hear him on Saturday in Placentia, his publisher, Brave Books, told Fox News Digital.
"The line snaked throughout the library and went outside around most of the library," a Brave Books spokesperson said on Saturday afternoon. 
There were "a few protesters," the publisher said.
But Cameron largely was greeted "with many cheers," Fox News Digital was told.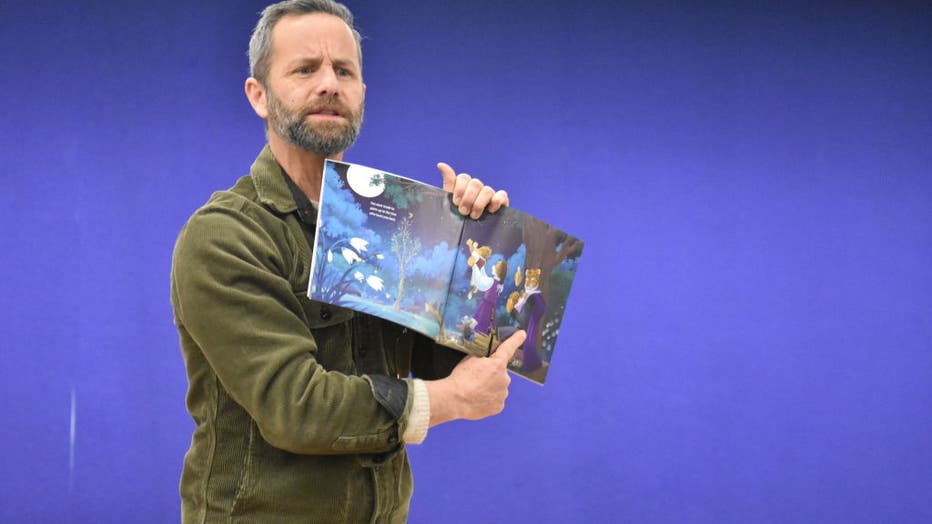 American actor and evangelist Kirk Cameron delivers remarks and reads his Christian book "As You Grow" in Scarsdale, New York, United States on December 30, 2022. (Photo by Kyle Mazza/Anadolu Agency via Getty Images)
He discussed his wholesome and colorfully illustrated book for children — and the story of a tree that grows "through the seasons of life" and spreads its wisdom along the way.
Additional cities are still being added to Cameron's schedule for the weeks and months to come, his publisher said.
"No more will the family of faith be shut out from the public square," the publisher said.
Because new destinations are still being discussed, interested parents and grandparents are encouraged to visit the publisher's website, BraveBooks.us.
There, they can email a location request to the publisher — and attend in person once the destination is confirmed and Cameron visits the local library.

Among the places he'll be traveling are cities with taxpayer-supported public libraries that earlier either denied his and his publisher's requests to hold story hours at their facilities — or never responded to his requests to hold book-based events there.
As Fox News Digital reported in recent weeks, over 50 public libraries in major cities across the U.S. either outright rejected Cameron's requests for a story-hour program for kids or did not respond to inquiries, as Brave Books said.
Many of these same libraries advertised or promoted "drag queen story hours" held in their facilities for children and parents.  
Cameron, a dedicated Christian, first found fame on the TV sitcom "Growing Pains."
He told Fox News Digital recently that his entire family supports his outreach efforts to American families and children.
He and his wife, Chelsea Noble — a former co-star on "Growing Pains" — have six children of their own, four of whom are adopted. 
His book, "As You Grow," says, in part, "Because you've been cared for, care for others."
It also says, "Let your strength and gentleness be what draws others to you."
Cameron told Fox News Digital last week in an interview, ahead of the Placentia Library visit, "There are many people who are so busy raising their families, going to work — they love this country and they see the values in the country deteriorating and the politics getting corrupted."
He said, "And I've wondered, Well, where is the line when people will finally say, 'Enough. No more'? And it seems like that line is drawn very clearly at the hearts and minds of their children, especially the little ones."
He also said, "There's a lot of people who don't show up at the polls and vote. There's a lot of people who will send their kids to the public schools," even when those schools don't always represent their values.
"But when you come for their little ones" — that's when people will stand up and fight.
"I'm going to lead the charge with story hour," he also said.
Get more updates on this story on FOXNews.com.