Jason Aldean's 'Try That In A Small Town' soars to No. 1 on Billboard Hot 100; wife Brittany celebrates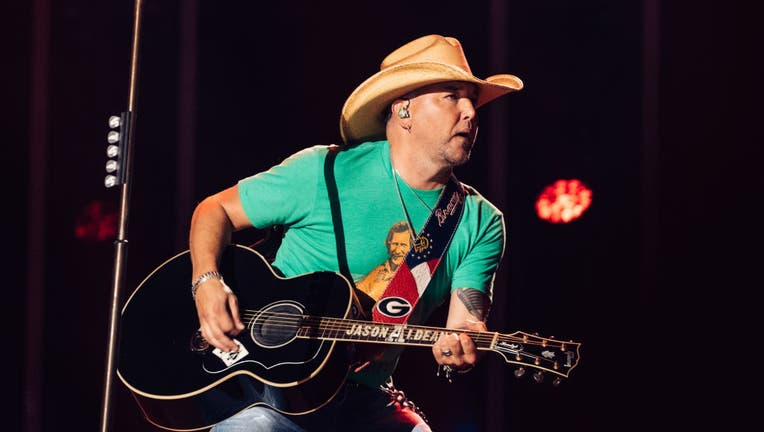 article
Jason Aldean's "Try That In A Small Town" has topped the Billboard Hot 100 Chart. 
The 46-year-old country star's tune, which released in May and debuted at No. 2 last month, soared to the No. 1 spot on the chart dated Aug. 5, per Billboard. With Morgan Wallen's "Last Night" placing No. 2 and Luke Combs' "Fast Car" coming in third, it marked the first time in the Billboard chart's 65-year history country songs claimed the top three spots. 
"Try That In A Small Town" is also Aldean's first No.1 on the Hot 100. The achievement comes after Aldean faced backlash following the release of the song's music video, which was subsequently pulled from Country Music Television (CMT)'s rotation. On Tuesday, Aldean's wife Brittany took to Instagram to celebrate the singer's success and shade his critics.
"Well, yesterday was a monumental day for @jasonaldean," Brittany wrote. "#1 on the Billboard Hot 100 Chart!! …A career first That sure did backfire, didn't it?? The best fans EVERRR."
In her Instagram post, Brittany shared a slideshow of photos and videos in which Aldean celebrated at a restaurant with friends and family. Brittany posted a snap of her and Aldean embracing; a photo of the singer holding son Memphis, 5, and daughter Navy, 4; and a photo of the Billboard announcement.
Aldean took to his Instagram story to celebrate his career first and posted a screenshot of Billboard's top 10 with "Try That In A Small Town" in the No. 1 spot.
The Georgia native tagged songwriters Kelley Lovelace and Neil Thrasher, bassist Tully Kennedy and producer Michael Knox. He also reposted a tweet from Chart Data announcing country artists had occupied the top three chart spots for the first time in history.
Billboard reported "Try That In A Small Town" had drawn 30.7 million streams, up 165% over the week of July 21-27, per Luminate, which tracks streams and music sales. Over that period, the song also received 8.8 million radio airplay audience impressions, up 21%, and had sold 175,000 units, down 23%.
The song was released in May as the first single off Aldean's upcoming 11th studio album. However, the song drew backlash after the music video debuted July 14. 
The five-time Grammy nominee's detractors have slammed the song's lyrics, which some perceived as having racial undertones and promoting a "pro-lynching" message. 
Aldean has strongly denied the claims. Critics have also blasted Aldean over the music video, the majority of which was filmed at a Tennessee courthouse that was the site of the 1927 lynching of an 18-year-old Black man named Henry Choate and a pivotal site during the Columbia race riot in 1946.
TackleBox, the company that produced the music video, told Fox News Digital the courthouse is a "popular filming location outside of Nashville" that has been featured in a number of music videos and movies.
In its statement, TackleBox cited several projects that have been filmed at the courthouse, including, most recently, the 2022 Lifetime Original television movie "Steppin' into the Holiday" starring Mario Lopez and Jana Kramer. TackleBox also noted the location was featured in a Runaway June music video for the 2019 song "We Were Rich," the 2022 Paramount holiday film "A Nashville Country Christmas" with Tanya Tucker, and Miley Cyrus' 2009 film "Hannah Montana: The Movie."
In its statement, the company said, "Any alternative narrative suggesting the music video's location decision is false," and noted that Aldean did not pick the location.
In the music video, Aldean's lyrics are sung while news coverage from 2020 riots illustrates his message. 
"Cuss out a cop, spit in his face / stomp on the flag and light it up," Aldean sings, along with footage of the riots.
Aldean's song skyrocketed to success after the backlash, sitting as iTunes' No. 1 song at the time of publication. Before it hit No. 1 on the Billboard Hot 100 spot, it was Aldean's first song that claimed the No. 2 spot. 
His "Dirt Road Anthem" reached the seventh spot in July 2011.
A few days after the video's release, Aldean addressed the response to "Try That In A Small Town."
"In the past 24 hours I have been accused of releasing a pro-lynching song (a song that has been out since May) and was subject to the comparison that I (direct quote) was not too pleased with the nationwide BLM protests. These references are not only meritless, but dangerous," he told his social media followers.
"There is not a single lyric in the song that references race or points to it — and there isn't a single video clip that isn't real news footage — and while I can try and respect others to have their own interpretation of a song with music — this one goes too far."
Aldean has continued to defy his critics and perform the song while on his 31-date Desperado Highway Tour, which kicked off July 14 in Bethel Woods, New York. He has also spoken out about the ongoing backlash during some of his concerts. 
While performing in Massachusetts over the weekend, the singer once again defended the song and drew a comparison between "Try That In A Small Town" and Boston's resilience after the 2013 marathon bombings.