Jasmyne Cannick talks healing the racial divide in the LGBTQ+ community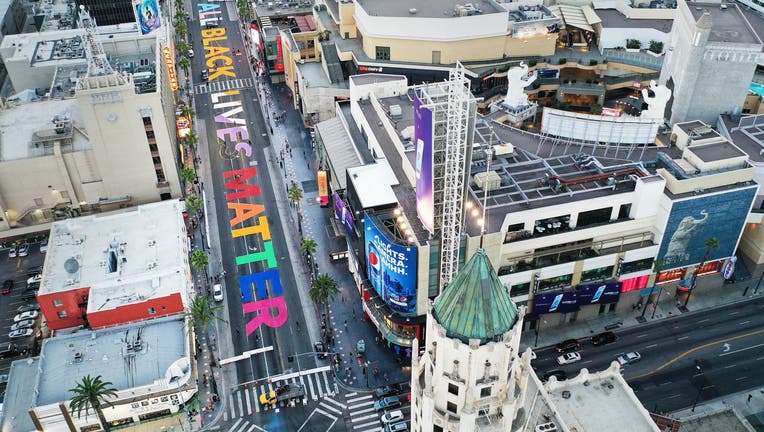 article
WEST HOLLYWOOD, Calif. - The "All Black Lives Matter" protest that occurred Sunday on the streets of Hollywood and West Hollywood was seen by many as a celebration of two communities, black and LGBTQ+, who each have history of suffering at the hands of the police.
The June 14 March for Gay Pride was originally canceled due to concerns about the spread of coronavirus but was then rescheduled as a protest in support of the Black Lives Matter Movement.
RELATED: Thousands turn out for All Black Lives Matter anti-racism solidarity march in Hollywood
However, within the LGBTQ community, there exists a longstanding racial divide that many believe needs to be addressed.
Jasmyne Cannick, author, commentator, analyst and co-founder of the National Black Justice Coalition joined Tony McEwing on Good Day LA for a conversation about that divide and what can be done to heal it.
"It's a huge divide," Cannick said. "I'm not willing to give the white LGBTQ community a pass on this."
For those who are in both communities, they not only have to deal with homophobia and misunderstanding within the black community, but also racism in LGBTQ settings. This not only applies for African Americans, but for LatinX and all communities of color.
RELATED: Continuing coverage of the death of George Floyd
Cannick noted the progress being made and gave insight as to what more can be done, citing this Friday's first-ever Juneteenth celebration in the City of West Hollywood, where gay and black leaders will have an opportunity to share their experiences.
Reacting to the landmark decision by the US Supreme Court granting protections to LGBTQ citizens under the Civil Rights Act, Cannick says "while we were all blown away and shocked by the decision, it is right in step with how the majority of Americans feel about employment discrimination."
Get breaking news alerts in the FOX 11 News app. Download for iOS or Android.