'It's their fault': UAW president slams Big 3 as autoworker strike begins
WAYNE, Mich. (FOX 2) - The Big Three automakers are to blame for the strike, United Auto Workers President Shawn Fain said during a visit to the Ford Wayne Assembly Plant early Friday.
"We've countered, we've had very constructive conversations. We made counteroffers again tonight. It's their fault. It's a shame that they waited until the last week to start meeting with us," Fain said to a crowd of reporters and autoworkers.
By "they," he means General Motors, Ford, and Stellantis. The UAW and automakers were trying to reach a contract deal before 11:59 p.m. Thursday. As the union and automakers passed offers back and forth, changes were made, but a deal was never reached and a strike began.
The union initially was asking for a 46% pay raise, a 32-hour work week with 40 hours of pay, the tier system removed, and restoration of traditional pensions for new hires, among other demands. However, the union said it is now willing to accept a pay raise percentage in the mid-30s.
When the contract deadline hit, GM and Ford's most recent offers included 20% raises, while Stellantis offered 17%.
Ford called the union's requests "unsustainable terms" in a statement Thursday, noting that the counterproposal provided to the company that night wasn't much different than what was provided early last month.
However, Fain maintains that workers deserve more money. 
"We're all expected to sit back and take the scraps and live paycheck to paycheck and scrape to get by," Fain said. "We're second-class citizens. The sad reality is when corporations fail, we pay the price, our workers pay the price."
Fain asserted that people now care that workers want wage increases, but didn't have an issue when car prices went up or CEOs got raises. He also noted the automakers' record profits.
"The workers ask for their fair share, it's the end of the world," he said. "This isn't just about the UAW, this is about working class everywhere in this country. No matter what you do for a living, you deserve your fair share of equity."
Fain said the strike will last as long as it takes to reach a deal that the union finds adequate.
"We are gonna be out here until we get our share of economic justice, and it doesn't matter how long it takes. That's up to the companies," he said. "They need to come to the table and get real about taking care of their members that they call family."
The union is doing a stand-up strike. Right now, workers at three plants are striking. This includes the Ford Michigan Assembly Plant in Wayne, the Stellantis Toledo Assembly Complex in Ohio, and the GM Wentzville Assembly Plant in Missouri. When the UAW and automakers get back to the bargaining table, the union could call on more workers to strike. 
Fain previously said that this strategy will put pressure on the companies, though he is revealing little about that strategy.
"We have a strategy we've mapped out, and we've got a playbook we're going to play by. This is up to the company," he said at Michigan Assembly, adding that the union will amp up efforts if an agreement isn't reached with automakers.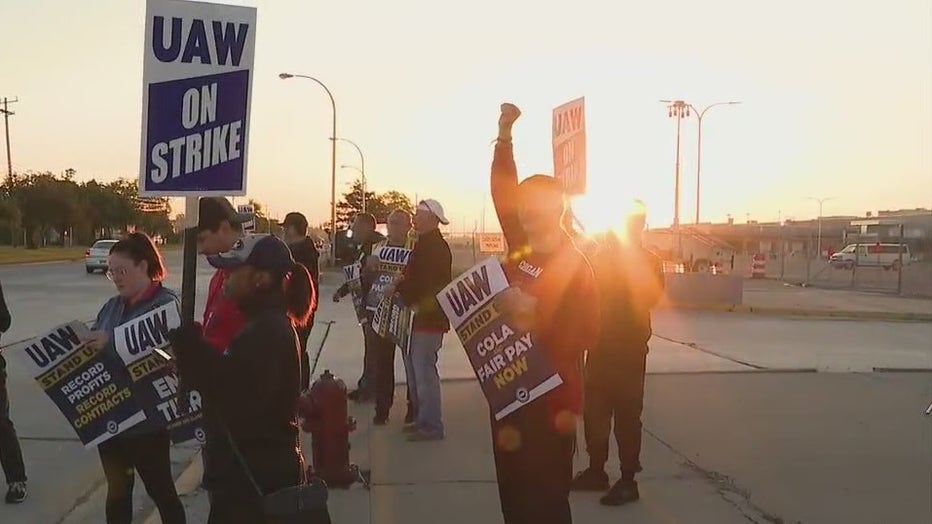 Workers strike outside Ford Michigan Assembly in Wayne on Sept. 15, 2023
As Fain blames automakers for the strike, the carmakers are suggesting that the union is at fault.
"We are extremely disappointed by the UAW leadership's refusal to engage in a responsible manner to reach a fair agreement in the best interest of our employees, their families, and our customers," Stellantis said in a statement.
GM released a similar statement after learning that workers were striking at one of its plants.
"We are disappointed by the UAW leadership's actions, despite the unprecedented economic package GM put on the table, including historic wage increases and manufacturing commitments," the company said.
GM's proposal given to the UAW hours before the contract exploration included a 20% wage increase, cost-of-living protections for some employees, and up to five weeks of vacation.
Watch FOX 2 News Live