Is Taylor Swift going to the Eagles-Chiefs game tonight?
Monday night's football game is already in the spotlight – it's Kelce brother vs. Kelce brother, as the Philadelphia Eagles' Jason takes on the Kansas City Chiefs' Travis in a Super Bowl rematch. 
But many eyes are looking at the game for another reason as well – to see if Taylor Swift will be there.
RELATED: Kelce Bowl: Eagles' Jason, Chiefs' Travis the center of attention in a Super Bowl rematch
The romance between the pop icon and Travis has been dominating headlines and social media as of late. 
But, unfortunately Taylor won't be at tonight's game.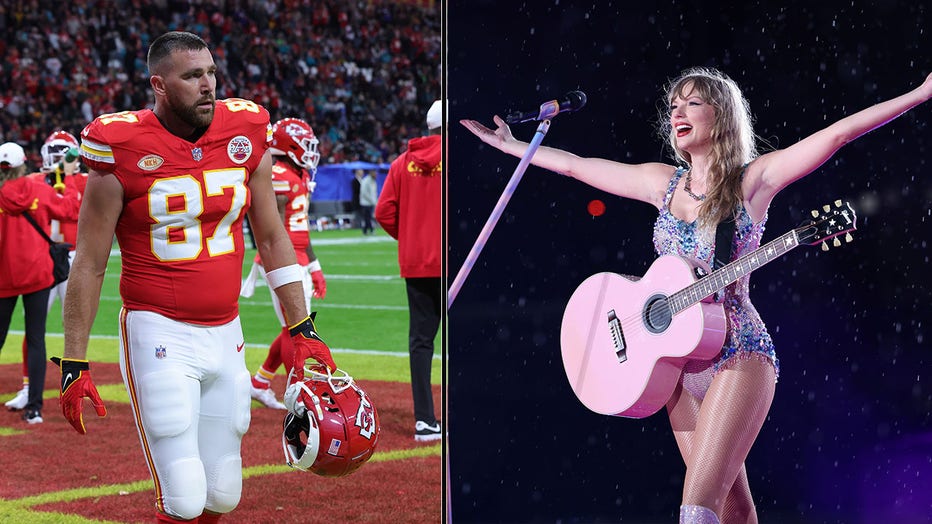 She's in the first leg of international dates for her Eras Tour and had a troubling weekend in Rio de Janeiro. 
A 23-year-old fan died at her Friday night show, and though the cause has not yet been announced, many are speculating that it was linked to the extreme heat plaguing the city.
The daytime high in Rio on Friday was 39.1 degrees Celsius (102.4 degrees Fahrenheit), but it felt much hotter. Apparent temperature — a combination of temperature and humidity — hit 59 C (138 F) Friday morning in Rio, the highest index ever recorded there.
Fans who attended the Friday show said they were not allowed to bring water bottles into the stadium.
Taylor made the decision to postpone Saturday's show, saying on Instagram that "the safety and well being of my fans, fellow performers, and crew has to and always will come first."
In a previous statement shared on her social media Saturday morning, Swift said she had a "shattered heart."
"There's very little information I have other than the fact that she was so incredibly beautiful and far too young," the singer wrote of the young woman.
RELATED: Taylor Swift 'devastated' after fan dies at Brazil concert
Taylor rescheduled the show for today, Monday, Nov. 20, when a much more tolerable high temp of 78 F was expected. 
But that means she will still be in South America when Travis takes the field at Arrowhead Stadium, though it's unclear if the concert's postponement changed her plans at all to return to America for the game. 
After Rio de Janeiro, Taylor will have a few days off before playing in São Paulo, Brazil, the day after Thanksgiving. 
Travis had a bye week last week so he was able to join Taylor in Argentina for the beginning of her international tour, where their time together made headlines after Taylor changed the lyrics in "Karma" in a nod to Travis. 
RELATED: Taylor Swift changes 'Karma' lyric, runs to kiss Travis Kelce after second Eras show in Argentina
His next game is the Sunday after Thanksgiving, Nov. 26, in Las Vegas. Taylor won't be at that game, either, as she'll be closing out her three-night concert stop in São Paulo.
This story was reported from Detroit.