Authorities seize 38 firearms from IE man now prohibited from owning guns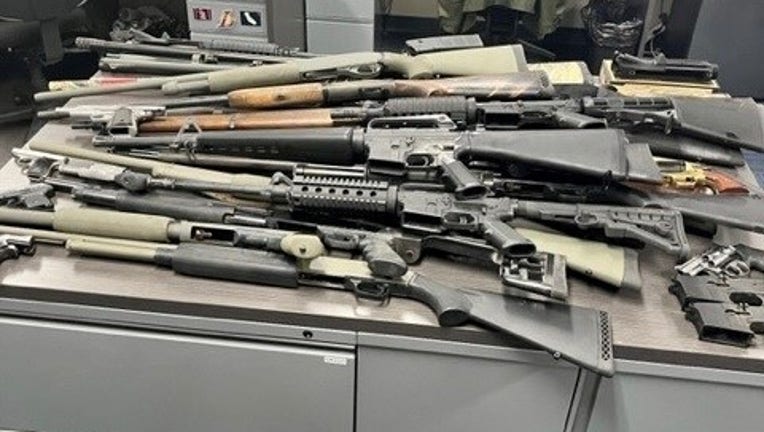 article
SAN BERNARDINO COUNTY, Calif. - Authorities in San Bernardino County seized 38 guns from a Piñon Hills man who is now prohibited from owning firearms following two shooting incidents outside an elementary school. 
On Sunday, May 14, a side-by-side ATV rider reported someone started shooting at them near the intersection of Mono and Oasis roads by Pinon Hills Elementary School. 
The victims told investigators with the San Bernardino County Sheriff's Department while riding in the area, they discovered someone placed large rocks and made ditches on several dirt roads, making the roads impassable to off-road vehicles. Once they reached the area by the school, the ATV driver got out of the vehicle when he heard gunshots, adding he knew he was being shot at. 
Thankfully, the rider and his companion were not injured.
Since the alleged incident occurred over the weekend, investigators were unable to search the school grounds until the following day.
On Monday, May 15, deputies found a bullet hole in the wall of the school next to the playground. While at the scene, deputies observed motorcyclists riding by as they continued on a dirt road on the southwest side of the school. That's when sheriff's officials said the suspect, later identified as Sean Michael David Garcia, fired three rounds in the direction of the riders and the school – some of the rounds even went over a deputy's head.
The school was immediately placed on lockdown after the shots were fired.
No deputies, students, or staff were injured in the second shooting.
Deputies set up a perimeter around the school and located Garcia in the yard of his home located in the 600 block of Rancho Road. Officials said Garcia was found in possession of 38 guns including assault rifles. 
Garcia was subsequently arrested without incident and he was booked into the High Desert Detention Center. 
He has been charged with discharging a firearm at an occupied vehicle, willful discharge of a firearm with gross negligence, illegal possession of an assault weapon, and manufacturing a short-barrel rifle. In addition, officials said he is now prohibited from owning firearms. 
Those with information are asked to contact the Victor Valley Sheriff's Station at 760-552-6800.
The investigation is ongoing.