Hurricane Otis makes historic Category 5 landfall as 'nightmare scenario' unfolds near Acapulco, Mexico
Hurricane Otis made a historic landfall near Acapulco, Mexico, at Category 5 intensity early Wednesday, packing destructive winds up to 165 mph after rapidly intensifying just hours before reaching the coast.
According to the National Hurricane Center (NHC), Otis made landfall some 5 miles south of Acapulco around 1:25 a.m. CDT Wednesday. Otis was the strongest hurricane to ever make landfall on the Pacific side of Mexico. It was also the first time an Eastern Pacific hurricane made landfall at Category 5 intensity.
The NHC said catastrophic damage was likely where the hurricane's core moved onshore.
"A nightmare scenario is unfolding for southern Mexico this evening with rapidly intensifying Otis approaching the coastline," the NHC warned in its forecast discussion Tuesday night after Otis intensified at an explosive rate. "… This is an extremely serious situation for the Acapulco metropolitan area with the core of the destructive hurricane likely to come near or over that large city early on Wednesday. There are no hurricanes on record even close to this intensity for this part of Mexico."
Residents in southern Mexico were warned to brace for a "potentially catastrophic" storm surge with "life-threatening" coastal flooding, huge waves, destructive winds and flooding rainfall.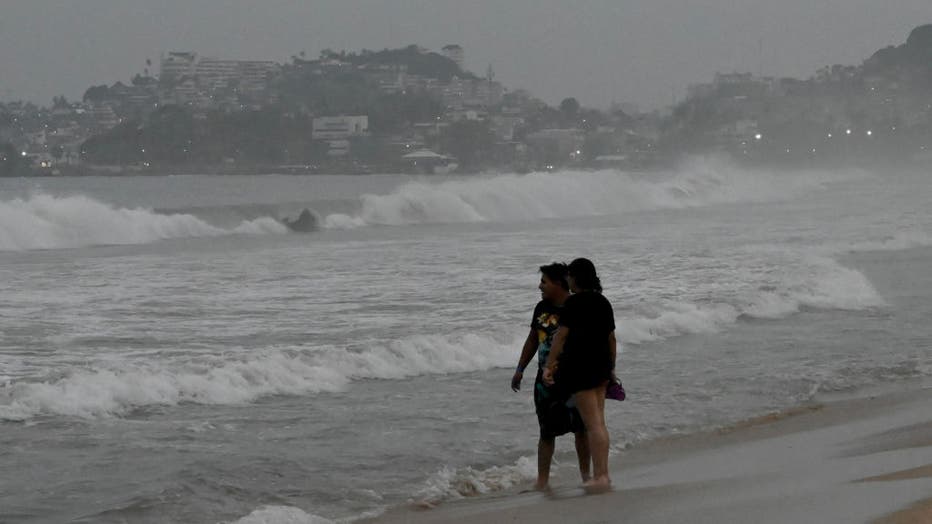 People stand on the beach after Hurricane Otis' arrival alert in Acapulco, Guerrero state, Mexico on October 24, 2023. (Photo by FRANCISCO ROBLES / AFP) 
"Hurricane Otis has intensified by 80 mph in the past 12 hours (from 65 mph to 145 mph)," Colorado State University hurricane specialist Phil Klotzbach wrote on X (formerly Twitter) Tuesday evening when the storm intensified to a Category 4 hurricane. That's the fastest 12-hour intensification rate in the eastern North Pacific (to 180°) in the satellite era (since 1966), breaking the old record of 75 mph/12 hours set by Patricia in 2015."
President Andres Manuel López Obrador held a news conference Wednesday and reported that communication within the state of Guerrero, where Acapulco is located, has been disrupted.
There is no information yet on any fatalities due to the lack of communication, Obrador added.
Officials are working to restore communication and conduct an early damage assessment. Obrador also references reports of landslides in the area. 
What's the latest with Hurricane Otis?
As of Wednesday morning, Hurricane Otis is centered about 60 miles north-northwest of Acapulco, Mexico, and is moving north-northwest at 10 mph.
Otis is still a Category 2 hurricane with maximum sustained winds of 110 mph.
A Hurricane Warning remains in effect along the southern coast of Mexico from Punta Maldonado westward to Zihuatanejo, including the city of Acapulco.
Continued rapid weakening is expected as Otis moves farther inland over the higher terrain of Mexico. Otis will likely dissipate over southern Mexico Wednesday night, the NHC said.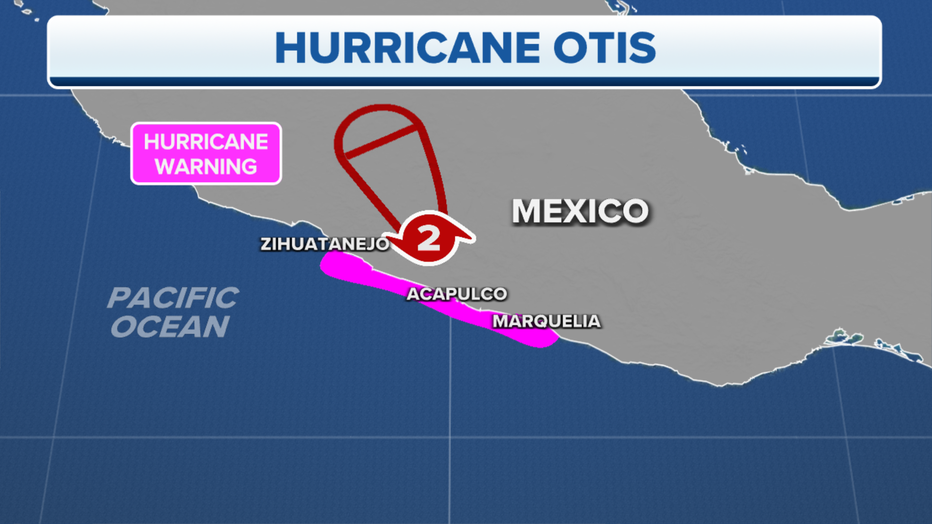 Here's a look at the current warnings and watches in effect in southern Mexico.(FOX Weather)
Where is Hurricane Otis going?
The NHC said Otis will track toward the north-northwest through Wednesday night and continue to move inland across southern Mexico until it dissipates.
Otis is expected to produce rainfall totals between 8 and 16 inches, with maximum amounts up to 20 inches, through Thursday across the state of Guerrero and the western coastal sections of Oaxaca. This rainfall will produce flash and urban flooding, along with mudslides in higher-terrain areas.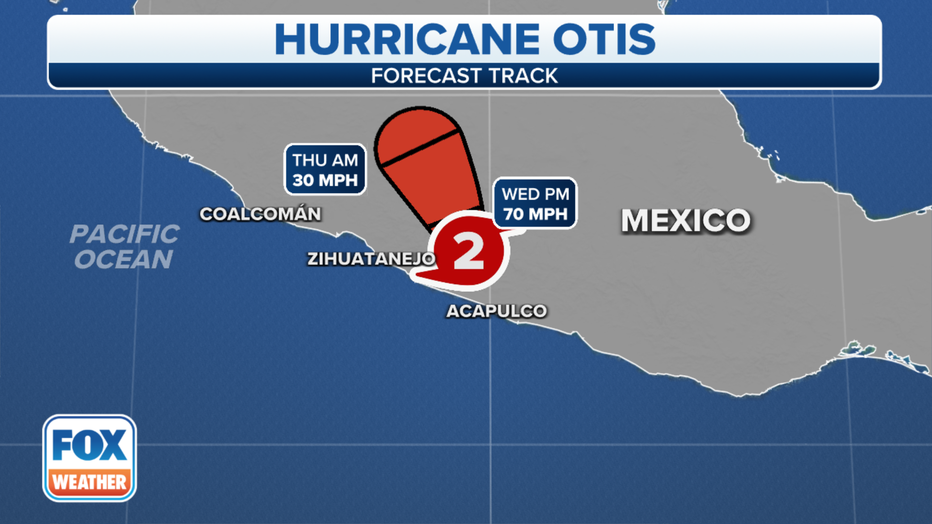 The forecast track for Hurricane Otis.(FOX Weather)
Another disturbance likely to develop south of Central America, Mexico
According to the NHC, a broad area of low pressure will likely form in a day or two over the far Eastern Pacific, partially related to the remnants of former Atlantic Tropical Depression Twenty-One.
Environmental conditions should be conducive for the development of this system, and a tropical depression is expected to form late this week or this weekend while the area of low pressure moves slowly westward to west-northwestward.
The NHC gives it a high chance of development over the next five days.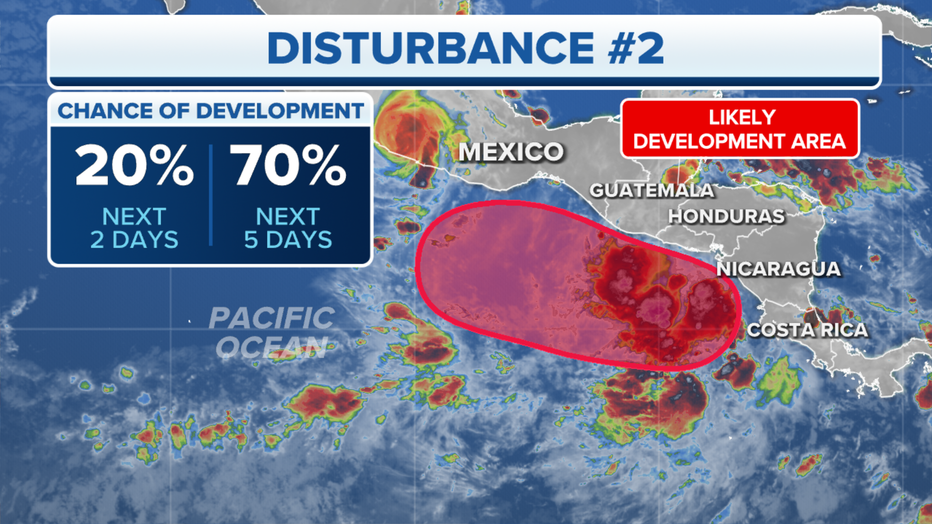 Here's a look at the chance of development for a disturbance in the Eastern Pacific Ocean.(FOX Weather)