Guillermo Medina: Family to file lawsuit against Culver City in deadly use of force arrest
CULVER CITY, Calif. - The family of Guillermo Medina is seeking justice and filed a claim against the Culver City Police Department Tuesday after he was shot and killed by officers back in December 2022.
Medina, who allegedly suffers from a mental health disorder, was shot in the back following a domestic violence call that turned into a police pursuit and foot chase days before Christmas 2022.
Adriana Medina said the father of three had stopped taking his medication for schizophrenia and was acting erratically. She said she called the Culver City Police Department's front desk, not 911, asking for help and emphasizing that he did not have a gun, as police have said. When officers arrived, Medina tried to get away in his car, crashing a few blocks away and then running off.
Guillermo Medina and his wife, Adriana.
The surveillance video showed Medina falling forward as he was shot. He slowly turned around on the ground, arms outstretched. Several officers carefully approached him and handcuffed him while seemingly looking for a weapon.
That's another troublesome aspect emphasized by Medina's family attorneys - that it wasn't until paramedics arrived a few minutes later that life-saving measures were taken. He was eventually pronounced dead. 
The incident is being investigated by both the Culver City Police Department and the California Department of Justice.
Guillermo Medina's family reacts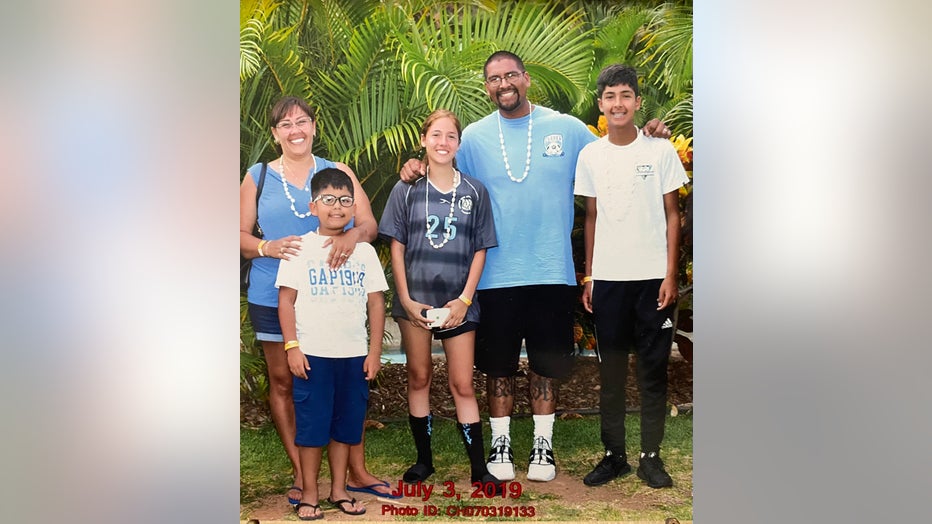 Guillermo Medina pictured with his wife and three children.
Marina del Rey Civil Rights Attorney V. James DeSimone, who is representing Medina's wife Adriana and their three children, said the family is "devastated by this loss."
"Once again, a cry for help results in a death sentence," DeSimone said in a press release.
He added Medina, who suffered from paranoid schizophrenia, was unarmed and posed no threat to officers at the time of the shooting. 
The claim states "the officers' over-response and neglect violated both state and federal laws, department policies and procedures dictating use-of-force and police officer standard training mandates."
DeSimone said the video shows the officers "stood idly by for nearly a full minute without rendering medical aid, wasting critical time that could have made the difference between life and death."
The Medina family is seeking compensation and punitive damage from the city and Culver City PD over the wrongful death. 
DeSimone's office issued the following statement on Thursday after the department released body camera footage of the deadly incident:
"We have reviewed the critical incident community briefing on the officer involved shooting of Dec. 18, 2022. Our client was clearly distraught that evening and did not recall everything she said. As attorneys, we did our best to accurately communicate what was conveyed to us about that evening. What the briefing makes clear is that Guillermo Medina did not have a gun on his person when he was shot in the back and killed and the officers observed that it was a cell phone in his hand prior to shooting him."
Medina had been dealing with mental health issues all his life according to his wife, who quickly added that police had never been called to the house on that account before this incident. She added that he was a good father, helping coach his children's soccer games, and that he worked as a truck driver and was about to start a new job the day after he was shot and killed.