'Guardian angel' police officer adopts opioid-addicted newborn from homeless woman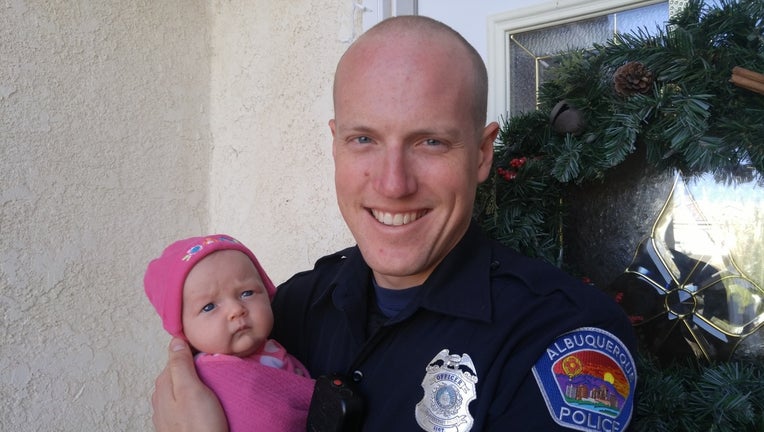 article
(FOX NEWS) - A police officer is being called a "guardian angel" after responding to reports of a robbery ended up with him agreeing to adopt a homeless pregnant woman's baby.
Albuquerque police officer Ryan Holets was investigating a convenience store robbery when he walked behind the building and found a woman getting ready to inject heroin.
Holets turned on his bodycam and confronted the 35-year-old Crystal Champ and her companion before realizing the woman was pregnant.
"You're going to kill your baby," Holets is heard on the bodycam chastising Champ, who revealed she was "seven or eight months pregnant."
The beginning of the video appears to show Holets writing a citation for the couple and talking to Champ about her situation.
"It's not every day I see a sight like that," Holets said in an interview with CNN. "It just made me really sad."
In that moment, Holets decided to intervene.
"I just felt God telling me, 'Tell her that you will do it because you can,'" Holets said to CNN.
By 'do it,' the father of four meant telling Champ he would like to adopt her baby.
Champ, who reportedly lives in a tent among the brush beside a New Mexico highway, has battled addition to heroin and crystal meth for most of her life.
"I know how bad my situation is," she told CNN. "I know what a horrible person I am."
Holets said Champ also "desperately wanted someone to adopt her baby," and he wanted to be the one.
"I got so tired of seeing so many situations that I want to help, but can't. But in that moment I realized I had a chance to help," Holets said.
After speaking with Champ, Holets returned home to his wife, who was not yet privy to the life changing decision he just made.
He told her the whole story.
"He already knew my heart on the issue, and he knew that I would be totally onboard with it," Holets' wife, Rebecca, told CNN.
The couple had discussed adoption previously, according to Yahoo reports, but wanted to wait until their 10-month-old was a little older.
In this case, the couple had no time to spare. Champ gave birth to a baby girl three weeks later. She named her Hope.
Unfortunately, due to Champ's drug use, Hope was born addicted to opioids, called neonatal abstinence syndrome (NAS). The syndrome can cause problems for growing infants such as increased irritability, autonomic overreactivity and gastrointestinal tract dysfunction, as well as developmental disorders later in life.
According to the National Institute on Drug Abuse, a child with NAS is born every 25 minutes in the U.S.
When the time is right, the Holetses will tell Hope about the circumstances surrounding her adoption, according to Yahoo.
"I just want her to be safe and secure and be in a family and be loved and have a chance," Champ said.
The couple parted ways after Champ gave birth, with the Holetses at the hospital.
"She turns to me and says, 'Take care of her for me.' And I said, 'I will take good care of her, and you take good care of yourself.' It was super emotional," said Rebecca.
"I am so thankful and blessed and humbled that we are allowed to be Hope in our family," Holets said.