Grocery stores limiting the number of meat products people can now purchase
LOS ANGELES - Some grocery chains in Southern California are placing limits on meat amid supply concerns. 
A spokesperson from Albertsons released a statement regarding the new policy at Albertsons, Vons and Pavilions stores:
"Albertsons, Vons and Pavilions in the Southern California market implemented a temporary limit of 2 packages per household on beef items yesterday and expanded the purchase limits to 2 on both chicken and pork this morning. We are not experiencing and do not anticipate any issues with supply or product availability. We did so to prevent panic buying and to ensure more of our customers can find the products they need." 
Several shoppers at Pavilions in West Hollywood believed the policy was a good idea. 
"I think it is right to limit the amount of products people can buy, then everybody can have a chance to get some and share equally so I think that's a good policy," said Alex Vanlang who bought chicken and turkey at the store.
RELATED: Stay up to date on all coronavirus-related information
However, some shoppers had trouble finding quality meat, and wondered how far the limitations would go.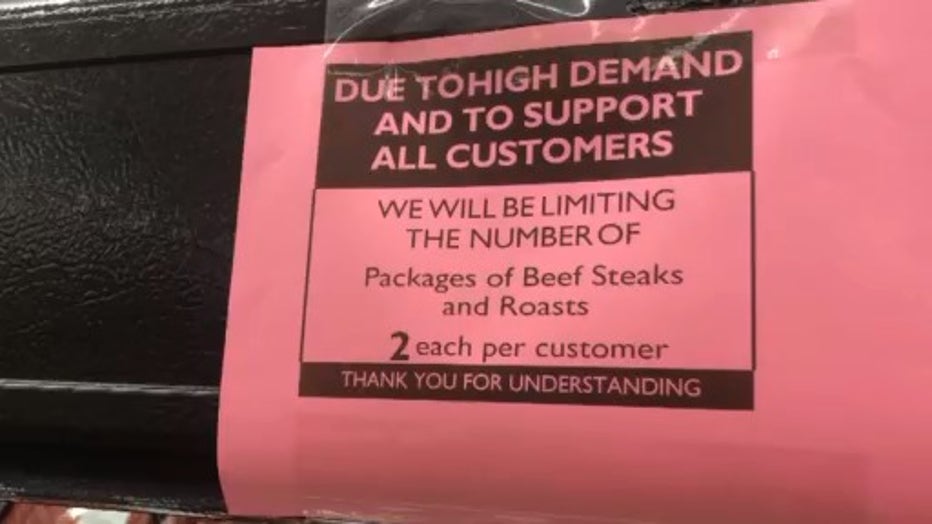 "I found it to be quite disappointing. There wasn't a variety to choose from of cuts especially in prime beef. Are they gonna start with fish too? Once you start with things like beef and chicken, you're going to start with the other meat supplies too," said Dianne King. 
Tyson Foods and other companies announced meat processing plant closures following coronavirus concerns. Tyson is closing its Dakota City facility which is one of the largest beef processing facilities in the country.
President Trump issued an executive order requiring meat processing plants to stay open during the crisis. 
The new policy at the three grocery chains aims to prevent meat hoarding.
"I think they learned their lesson from toilet paper and all of stuff that's going on the first few weeks. I think people realize there's plenty to go around, we just need to be aware of the situation," said Vanlang. 
Get breaking news alerts in the FOX 11 News app. Download for iOS or Android.