Girl, 4, dies after being stuck by vehicle while walking to pre-school with mom in Koreatown
LOS ANGELES - A young girl died after she and her mother were struck by a vehicle on their walk to school Wednesday morning in Koreatown, according to the Los Angeles Police Department.
Officers and medical personnel with the Los Angeles Fire Department responded to the vehicle versus pedestrian accident at the corner of W Olympic Blvd. and Normandie Ave. shortly before 8 a.m.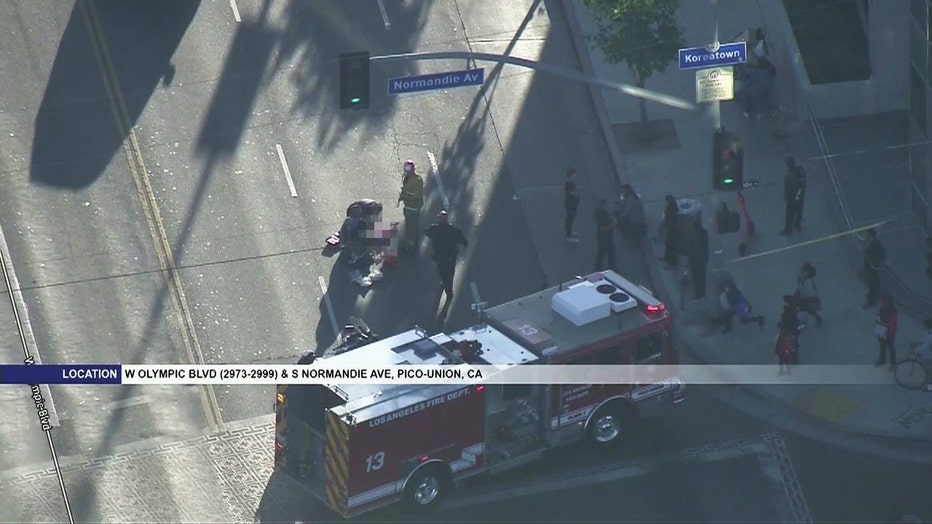 Authorities said that a mother was walking her 4-year-old daughter to pre-school when they were struck by a vehicle in a marked crosswalk. 
"The driver was making a left turn eastbound onto Olympic and collided with a mom and her 4-year-old daughter that were walking in a crosswalk," said LAPD Captain Elaine Morales.
Video from SkyFOX showed paramedics performing CPR on the 4-year-old, desperately trying to save the preschooler. Officer Christian Sanchez was one of the first responders. 
"You see a 4-year-old, being a parent with five children myself it touches home, you realize the pain the parent is going through at that moment," said Sanchez. 
The girl was transported by ambulance to an area hospital where she was pronounced deceased. Her name has not been released.
The mother was also transported to an area hospital for injuries sustained during the crash. Her current condition is unknown.
The mother and daughter were heading to Mariposa-Nabi Primary Center, just over a block away from where they were struck.
Police said the female driver of the red Ford Explorer remained at the scene and has been cooperating with the investigation. She had three children in her vehicle at the time of the crash, none of whom were injured. They were also believed to be on their way to school.
"She was very upset, she was crying... she understood what was going on," Sanchez said. 
Authorities were working to determine who was at fault in the crash and whether the driver had a green light when she made the left turn. 
Olympic Blvd. was completely shut down in both directions as authorities conducted their investigation. It was unclear when the road would reopen.
FOX 11's Stephanie Stanton contributed to this report.