Georgia boy, 11, pulled from bike and attacked by 'loose' pit bulls loses part of ear, most of his scalp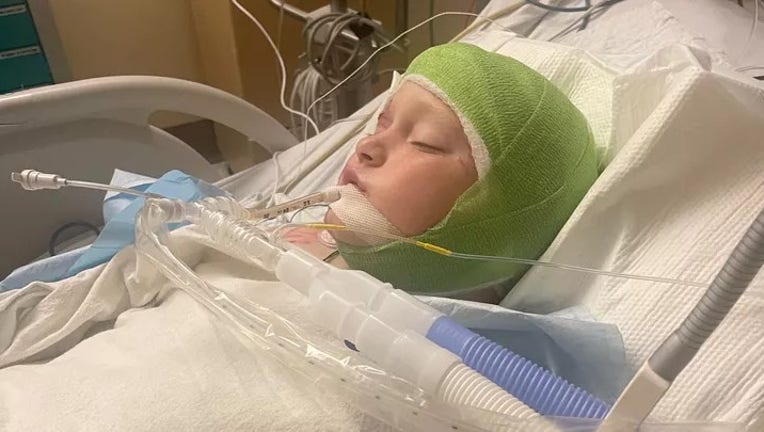 article
GROVETOWN, Ga. - An 11-year-old boy is missing 70% of his scalp after he was pulled from his bicycle and attacked by three loose pit bulls while on a ride through the neighborhood. 
The boy, Justin Gilstrap, was missing half of his ear, had bites on his leg, and had much of his scalp ripped off by the time police arrived on the scene. 
Justin's cousin, Mason Aguilar, 11, made the 911 call Friday when the three dogs launched their brutal attack, eventually dragging the young boy into a ditch on the side of the road.
"All I hear is screaming 'help, help, help,'" Mason said. "I thought my cousin was at his house playing a game. Then I see him sitting there in the ditch with three dogs and blood everywhere, saying, 'Mason help, Mason help, Mason help.'"
Justin Gilstrap (Courtesy of the family)
Burt Baker III, the owner of the dogs, told police his dogs enjoy chasing people on bicycles. Baker was arrested shortly after and charged him with reckless conduct.
"There isn't an inch of his body that doesn't have a cut or bruise," Justin's mom, Ericka Gilstrap, told WRDW. "His life will never be the same again."
Mason's mother, Kellie Aguilar, said this isn't the first time the family has filed a complaint about Baker's dogs.
"Nobody's ever done anything," Ericka added. "They just run loose. They're not behind the fence. They're not tied up. They run loose 24/7.″
According to Ericka Gilstrap's Facebook, Justin has been suffering a fever and just left surgery where some of his skin from his leg and scalp were removed. Doctors say they are optimistic the integra graft will begin soon.
"We want to thank everyone for their support! It means so much." Ericka Stevens told Fox News Digital. 
A GoFundMe has been established to help offset the medical costs for Justin. It has currently raised $150,000.