First supermoon of 2023 to take place in July - here's when to see it
The first supermoon of 2023 will greet skygazers in July as America prepares to celebrate Independence Day.
The full "Buck Moon" as it's called will appear bigger and brighter than average, according to the Farmer's Almanac. 
Here is more about the upcoming supermoon and the best time to view it:
When to see July's full 'Buck Moon'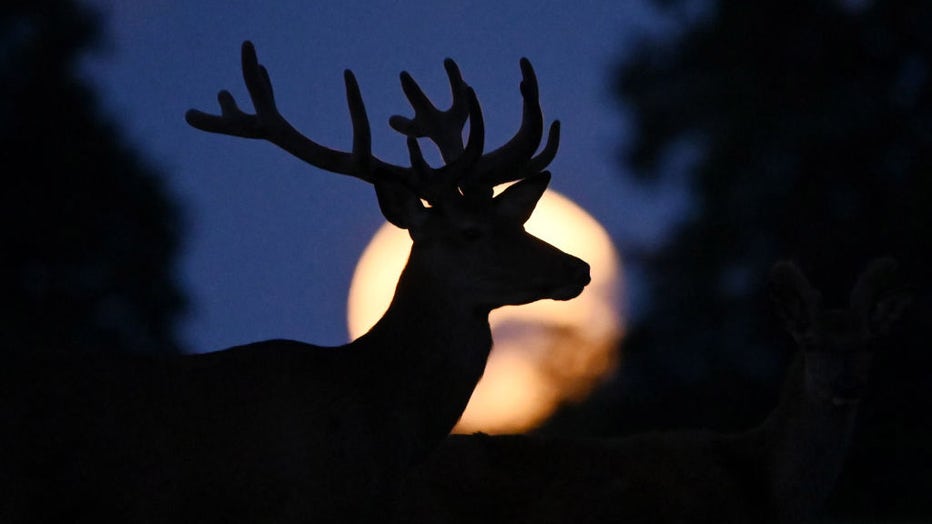 FILE - A full super moon known as the "Buck Moon" is seen as a deer grazes outside the village of Taarbaek, some 15 km north of Copenhagen, on July 14, 2022, in Denmark. (Photo by Sergei Gapon/Anadolu Agency via Getty Images)
July's full Buck Moon will rise on Monday, July 3, reaching peak illumination at 7:39 a.m. ET, Farmer's Almanac says. But it will be best viewed at moonrise the previous evening on July 2, according to forecasters.
The full Buck Moon will orbit closer to Earth than many of the other full moons this year, making it one of the four supermoons of 2023, according to Farmer's Almanac. 
It will be 224,895.4 miles from Earth at its nearest point.
Why is it called the 'Buck Moon?'
July's full moon is known as the Buck Moon because between June and July male deer antlers undergo a period of rapid growth and will appear at their largest. 
Antlers can grow up to 2 inches per week for older bucks, according to Mississippi State University's Deer Ecology and Management Lab. 
According to the Farmer's Almanac, other names for the full moon come from Native American sources, including the Salmon Moon and Feather Moulting Moon.
This story was reported from Cincinnati. FOX Weather contributed.