Four hospitalized, suspicious naked man taken into custody while crews battle apartment fire in Garden Grove
GARDEN GROVE, Calif. (FOX 11) -  A fire at an apartment complex in Garden Grove displaced dozens of residents and sent some to the hospital.  
Firefighters responded to the Crystal View Apartments on the 13100 block of Chapman Avenue, near Haster Street, around 2 a.m. Saturday. Heavy smoke could be seen coming from the second floor. Firefighters helped evacuate residents to safety.
 
A total of seven people sustained smoke inhalation and four were taken to a hospital in stable condition, according to the Orange County Fire Authority.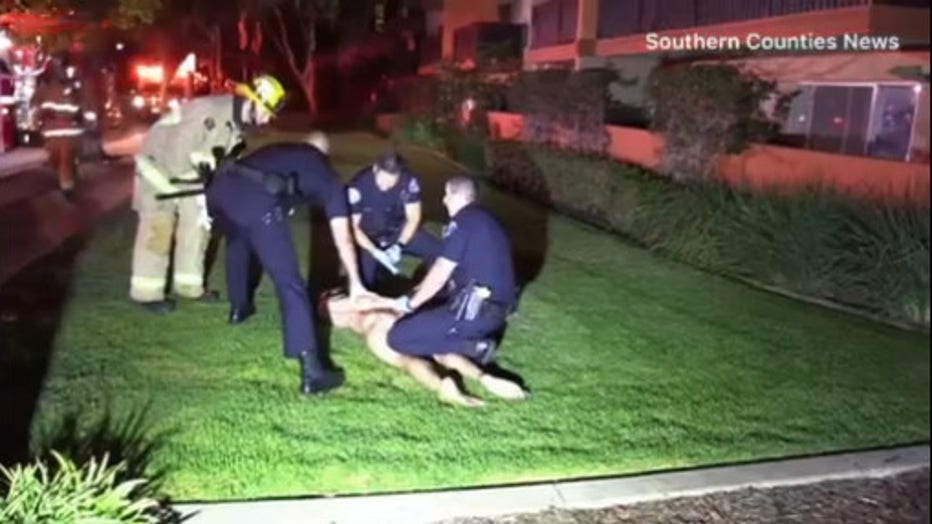 During this incident a man who lived at the complex was running around naked.  "A suspicious naked male was located in a stairwell of the apartment complex during the evacuation,'' Garden Grove Police Sgt. Mark Lord said. "The subject was bleeding from a laceration to his arm and was uncooperative with officers.''
Police arrested him for an unrelated offense. 
The cause of the fire is under investigation; 29 units at the complex is now uninhabitable. 
CNS contributed to this report