Flight attendant diagnosed with coronavirus posed no threat to public while in LA, public health department says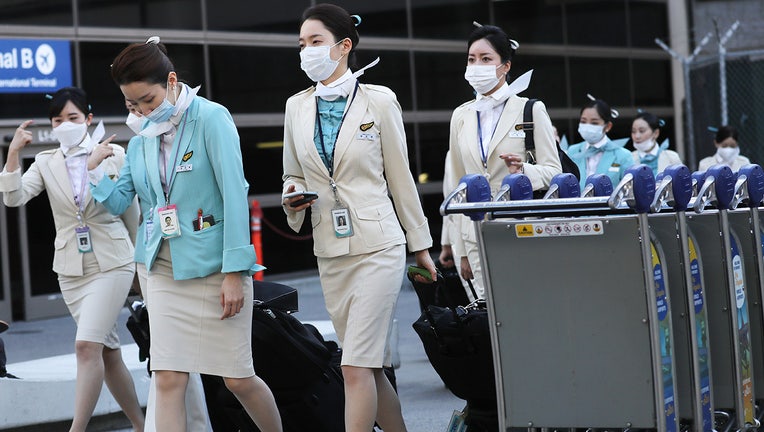 article
LOS ANGELES - The Korean Air flight attendant that tested positive for coronavirus did not pose any risk to others while in Los Angeles, the L.A. County Department of Public Health said Friday.
"Public Health received confirmation from the Centers for Disease Control and Prevention (CDC) that a South Korean flight attendant, who was diagnosed with novel coronavirus 2019 (COVID-19) in South Korea and had recently visited LA County, was not symptomatic during their time in LA County and did not pose any risk to others while in LA County. The CDC confirmed the flight attendant did not develop symptoms until after departing LA County," said a statement from the Public Health Department.
RELATED: Flight attendant diagnosed with coronavirus after flights in and out of Los Angeles, reports say
Public health officials say that there are no new cases of the coronavirus in L.A. County at this time, and no evidence currently of person-to-person spread of the virus within L.A. County.
"The immediate health risk to the general public of exposure to this virus in Los Angeles County is still considered low," said the Public Health Department's statement. "Public Health also continues to proactively take steps to prevent the spread of this novel coronavirus and to work with healthcare, schools, colleges, and universities, the business community, and State and Federal partners, among others, to prepare for the possibility of additional cases in the future."
Get breaking news alerts in the FOX 11 News app. Download for iOS or Android.
Health officials continue to recommend the public protect themselves and prevent the spread of all respiratory illnesses by doing the following:
-- Stay home when you are sick.
-- Wash your hands often with soap and water for at least 20 seconds, especially after going to the bathroom; before eating; and after blowing your nose, coughing, or sneezing.
-- Avoid touching your eyes, nose, and mouth with unwashed hands.
-- Limit close contact, like kissing and sharing cups or utensils, with people who are sick.
-- Clean and disinfect frequently touched surfaces using a regular household cleaning spray or wipe.
-- Cover your cough or sneeze with a tissue, then throw the tissue in the trash. If you do not have a tissue, use your sleeve (not your hands).
-- Facemasks are most effective when used appropriately by health care workers and people who are sick.
-- Get a flu immunization if you have not done so this season.
For more information on the coronavirus, visit https://www.cdc.gov/coronavirus/2019-ncov/index.html. LA County residents can also call 2-1-1