Father scales waterslide to rescue his stuck daughter, video shows
WARRINGTON, England - A dad came to the rescue after his daughter became stuck on a waterslide at Gulliver's World Theme Park in Warrington, England, earlier this month. 
A video, captured by Emma Reece, shows her husband scaling the waterslide to get to their daughter before using his weight to help the raft eventually slide down. In the video, cheers erupt from the crowd as the dad and daughter slide down the slide. 
Reece told video licensing company Storyful that they were at the theme park celebrating their daughter's sixth birthday on June 10 when she got stuck. 
"She couldn't budge it herself. The theme park had called for help but was taking too long," Reece shared. "Her dad had to climb up to save her."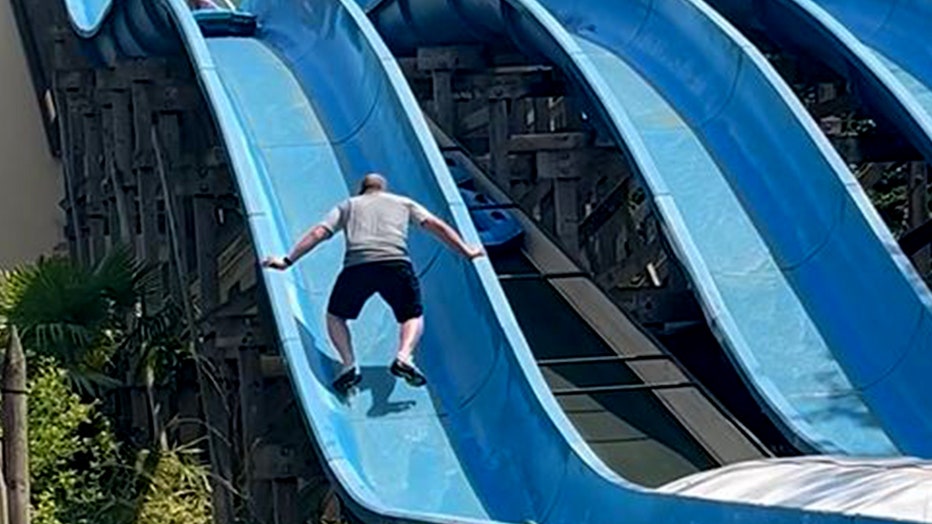 A dad took matters into his own hands after his daughter became stuck on a theme park waterslide. (Credit: Emma Reece via Storyful)
Gulliver's World Theme Park is a resort in Warrington, Cheshire specifically designed for families and children. The park consists of themed areas including Safari Kingdom, Gully Town and Smuggler's Wharf. 
RELATED: Guests rescued from Disneyland's Pirates of the Caribbean ride
This story was reported from Los Angeles.