Officer Chad Swanson, killed in 405 Freeway crash, remembered as hero at Las Vegas mass shooting
CARSON, Calif. - A Manhattan Beach Police Department motorcycle officer was killed Wednesday in a crash on the 405 Freeway in Carson. 
The crash was reported about 5:15 a.m. at Del Amo Boulevard, according to the California Highway Patrol.
A preliminary investigation revealed a speeding vehicle made an unsafe lane change and collided with another vehicle. That second vehicle then collided with the motorcycle officer, identified as 35-year-old Officer Chad Swanson, who was ejected from his motor, authorities said.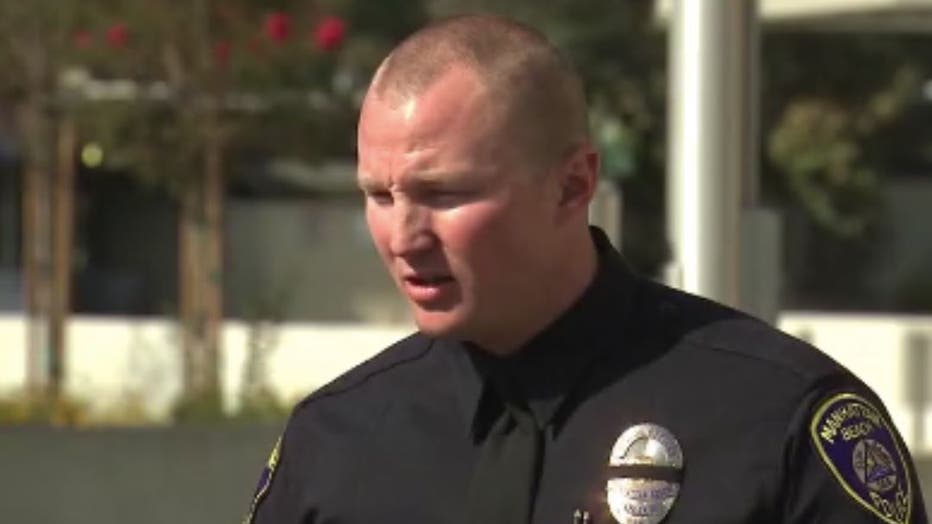 Officer Chad Swanson / Manhattan Beach Police Department
Swanson, a motor officer with the Manhattan Beach Police Department for the last 13 years, was taken to the hospital where he died from his injuries.
During a press conference, Lieutenant Kelly Benjamin said Swanson "loved riding his motor, but most importantly Chad loved his wife and three boys." 
"He had an infectious smile and was positive. He was a joy to work with, she added. 
She noted that Swanson was in the crowd at the 2017 Route 91 Harvest Music Festival in Las Vegas when a gunman opened fire on the crowd from a nearby hotel. Benjamin said Swanson helped get people and shooting victims out of the area.
"The entire Manhattan Beach community is mourning the loss of an officer who dedicated his career to ensuring the safety and well-being of our residents," Manhattan Beach Mayor Richard Montgomery said in a statement.
"His fearless contributions to our community and beyond were marked by bravery, integrity, and an unwavering commitment to duty," Montgomery said.
Swanson is survived by his wife, three boys, mother, and father.
One other person involved in the crash was hospitalized with minor injuries. 
The freeway was closed for hours Wednesday as authorities investigated the crash.
City News Service contributed to this report.