Fall 2023 top emerging US housing markets revealed
Following a sluggish summer real estate market, the fall is shaping up to offer little relief, with today's buyers still facing high housing prices amid elevated inflation and low home inventory. 
This means shoppers are continuing to zone in on more affordable areas.
The Wall Street Journal and Realtor.com's new Emerging Housing Market Index for fall 2023 highlights emerging housing markets that "offer shoppers a lower cost of living, including for homes, and thriving local economies that are attractive, but not too crowded."
The companies reviewed data for the largest 300 metropolitan areas in the United States. 
Here's a look at the identified emerging markets for Fall 2023.
Topeka, Kansas
Elkhart-Goshen, Indiana
Oshkosh-Neenah, Wisconsin
Fort Wayne, Indiana
Lafayette-West Lafayette, Indiana
Racine, Wisconsin
Manchester-Nashua, New Hampshire
Concord, New Hampshire
Columbus, Ohio
Johnson City, Tennessee
Kingsport-Bristol-Bristol, Tennessee-Virginia
Jefferson City, Missouri
Springfield, Ohio
Santa Maria-Santa Barbara, California
Dayton, Ohio
Janesville-Beloit, Wisconsin
Canton-Massillon, Ohio
Knoxville, Tennessee
Hartford-West, Hartford-East, Hartford, Connecticut
Worcester, Massachusetts-Connecticut
Topeka, Kansas ranks No. 1 emerging market
Topeka Kansas was named the highest-ranking emerging market for the first time in the history of the analysis.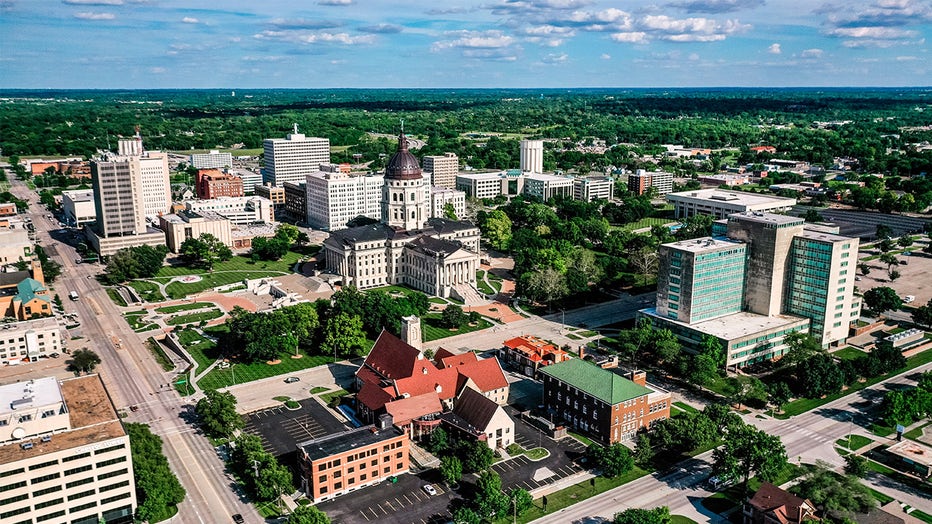 Kansas State Capitol, Topeka, Kansas. (Credit: Joe Sohm/Visions of America/Universal Images Group via Getty Images)
According to Realtor.com, "Topeka offers home shoppers the amenities of a Capitol city at a more affordable price point." The area is home to the Kansas State Capitol, multiple large employers and the state's largest Wal-Mart distribution center. 
The typical home for sale in Topeka was listed for $250,000 in September, a 42% discount compared to the national median. However, the popularity of the market kept upward pressure on prices, which rose 8.7% year-over-year in September.
Buyers want more for less
The housing market has not yet made significant strides towards affordability and as a result, Realtor.com said Fall 2023's emerging markets leaned heavily on outright or relative affordability.
The findings showed that 15 of the Fall Emerging Housing Markets were lower priced than the national median of $430,000 in September. 
The lowest-priced market on the list was Springfield, Ohio, which offered 54% savings on the median-priced home relative to the national level in September. 
Though these areas are largely lower-priced, Realtor.com said they also boast more amenities than the 300 largest metro average. Amenities are measured as the average number of stores per specific "everyday splurge" category (coffee, upscale/specialty grocery, home improvement, fitness) per capita in an area. 
RELATED: US housing market needs 1M more homes to satisfy demand
"Buyers are looking to save without compromising on comforts, and this quarter's emerging housing markets deliver," Realtor.com wrote.
Mid-sized Markets Gain Popularity 
Just five of the twenty markets on this month's list have a population of over 500,000 people. 
These mid-sized metros are 46% smaller, on average than the top 300 US metro areas. These less-congested areas also see commute times 5.4% lower than the national average. 
RELATED: Zillow study: These design trends will help or hurt your home's value in 2024
But these smaller markets are not just desirable for lower prices and quick commutes, they also boast a stronger-than-average job market. On average, the unemployment rate is 3.2% in these markets, 0.4 percentage points lower than the 300-metro average, the data revealed. 
This story was reported from Los Angeles.